Video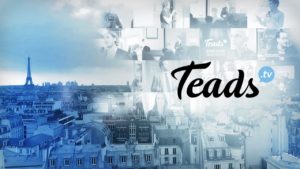 advertising marketplace Teads has announced that its reach across quality publishers in the UK has grown by 32% in the past three years. Now reaching 43.2 million people – 90% of the online UK population.
This is now the broadest reach of consumers across the comScore 100, the official reach ranking of UK media properties, with Teads reaching more people through quality publishers than anyone else in the UK. Teads' quality publisher partners in the UK include Trinity Mirror, Condé Nast Britain, Mail Online, Reuters and ESI Media, who are committed to delivering quality, trustworthy editorial and news content to readers within premium environments.
Data released by Teads shows nearly half of Brits (46%) say they have become more wary of news reported on social media following high profile 'fake news' scandals around Brexit and the US election. Furthermore, more than half (51%) expressed concern that social media sites only show them views similar to their own – the so-called 'echo chamber' or 'filter bubble' effect.
Overall, national newspapers are seen as the most trusted source of news and analysis: 33% of people ranked them top for factual accuracy, compared to just 10% for news on social media sites.
Justin Taylor, UK MD Teads, said: "More and more advertisers are trusting Teads and our leading publisher partners to provide a powerful alternative to YouTube and Facebook for distributing their video campaigns in a high-quality environment. Quality journalism is a crucial part of a free and open web and we are proud to have partnered since 2011 with so many quality publishers that are contributing to this diversity of opinion in the UK. We know that sustaining quality and innovative advertising experiences is key to supporting publishers, and with our combined reach, we are able to be stronger than the sum of our parts."
Scott Deutrom, Chief Digital Revenue Officer at ESI Media, said: "Digital advertising is an integral part of our business and allows us to continue to support the award-winning, quality journalism our audience expect from us. It is essential for us to ensure that advertising within our sites respects our users with non-invasive and innovative formats that engage, rather than negatively impact the user experience."
Globally, Teads now reaches more consumers across quality publishers than any other platform – 1.2 billion.
Source: Teads