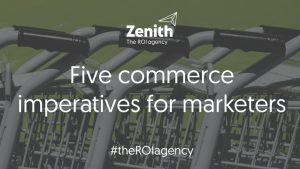 Many brands are missing out on driving growth through new commerce platforms as their marketing and sales teams are not structured to leverage these opportunities.
This is the key finding from Zenith's latest research: Five Commerce Imperatives for Marketers. Traditionally, brands have had separate sales and marketing teams, often with different objectives. Marketing teams need to reach the right customer at the right moment and are measured by awareness and reach metrics. Sales teams on the other hand need to meet 'sell-through' targets and are often assessed on short-term sales metrics.
As part of the digital transformation process to enable them to embrace end-to-end consumer journey planning, brands need to close the gap between sales and marketing in order to maximise returns from eCommerce. Working with a group of specialist research partners, Zenith has put together five key areas of focus that will help brands maximise ROI from commerce:
Break Down Silos
The growth of online and digital platforms has meant that no two consumer journeys are the same. In order to connect consumer experiences all the way through to sales, brands must break down their silos and understand category differences in journey planning. Specialists from a brand's marketing and sales functions must inform commerce strategies, and cross-functional models must be developed to ensure the right strategic and investment decisions are made.
Leverage the Retail Experience
Retailers are now acting more like publishers, so brands must approach retail in the way they would media, working collaboratively to plan and activate all the right placements. Consumers expect seamless, connected shopping experiences, so brands must work on joint plans with their retail partners in line with consumer expectations.
Identify Sources of Growth
As eCommerce 'pure players', such as Amazon, gain share and grow their customer base, brands to need to rethink the distribution of their products. Shoppers are notoriously loyal to where they purchase, so brands need to focus their partnerships on a core set of retailers that offer the most growth potential.
Exploit Retailer Media
Amazon has been effective in creating self-serve marketing solutions to help brands promote their products on its platform. Many traditional retailers are behind the curve on this and so brands need to push them to quickly develop digital marketing solutions. It is important that digital trade investments are optimised in a similar way to digital marketing.
Enhance Partnerships
Advances in data and technology solutions present an opportunity for seamless integration between brands and retailers. In order to leverage these opportunities brands need to connect communications to commerce. One way of doing this is to use retail eCommerce data to optimise a brand's digital marketing.
Source: Zenith