PubMatic,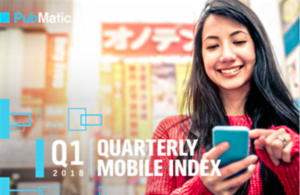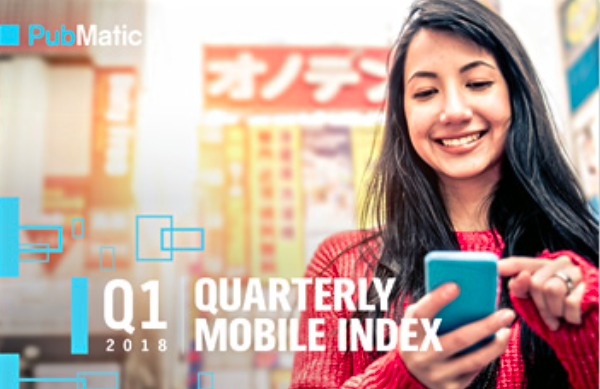 a publisher-focused sell-side platform (SSP) for an open digital media future, has released its first Quarterly Mobile Index (QMI) of 2018, which delved into key trends in mobile advertising for Q1. The report includes highlights around mobile app advertising growth, the continued expansion of header bidding adoption across mobile inventory, and the expansion of cross-channel monetization.
There has been a significant shift in monetization opportunities for mobile app developers as in-app header bidding is introduced to the market. Already mainstream for mobile web inventory, as indicated in previous QMI reports, the introduction of header bidding technology for app inventory unlocked significant growth potential. Global app impression volumes monetized by PubMatic rose 84 percent year-over-year in Q1 2018, outpacing the 28 percent growth rate for mobile web inventory over the same period. Apps now account for a firm majority of mobile impressions monetized by PubMatic, with a 59 percent share.
"With advancements in monetization technology, such as server-side header bidding integrations, app developers can now experiment with their demand partner setups to find the optimal yield," explained Nishant Khatri, VP of product management, ad serving at PubMatic and board member of the IAB Mobile Marketing Center of Excellence. "We are proud to be at the forefront of programmatic innovation, proving not only increased monetization opportunities but also improved user experience, particularly for impressions served on handheld devices."
The data from PubMatic's Q1 2018 QMI also highlights notable growth of mobile advertising via both PMPs and the open exchange. PMPs and other programmatic direct channels offer safeguards against fraud and brand risk as well as increased control for both publishers and buyers. As a result, mobile PMP impression volumes have expanded 43 percent year-over-year in Q1 2018. This trend towards quality has also infiltrated the entire programmatic ecosystem. As a result, mobile impressions monetized via the open exchange also experienced growth, rising 56 percent year-over-year in Q1 2018.
More highlights from the Q1 2018 Quarterly Mobile Index include:
• Header bidding impression volumes rose 70 percent YOY, with mobile driving the majority of the growth (110 percent YOY).
• Technology, News and Entertainment & Leisure were the top verticals for mobile monetization across both the open exchange and private marketplaces.
• Average mobile PMP eCPMs offered a 170 percent premium over those for the open exchange in Q1 2018.
• Mobile video advertising continued to rise, with nearly four in ten video impressions monetized through PubMatic technology being served on handheld devices in Q1 2018.
Visit the PubMatic website to view the full Q1 2018 Quarterly Mobile Index report.
Source: PubMatic