YOOX, which has always been at the forefront of e-fashion, has teamed up with Google to develop an innovative and groundbreaking interactive ADV format, creating for YouTube the world's most exclusive collection.
YOOX is a virtual wardrobe of wonders and treasure, and the intention was to offer customers a selection of the most covetable fashion pieces, playing with the concept of luxury desirability and urgency to buy in a pop way.
The result is a series of whimsical interactive short videos that both engage and entertain in perfect YOOX style, featuring hard-to-find pieces and luxury fashion items one at a time, for one time only, for the duration of a 15 second YouTube ad.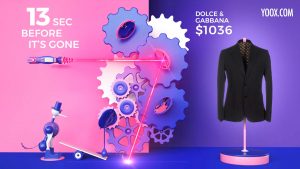 One of a kind items will be the "endangered" protagonists the short movies, and customers will have the chance to decide whether they want "save" them by buying them. If the occasion is lost, the item will be destroyed by a series of surreal animated 3D mechanisms, and the next person gets the chance.
The great novelty is that, once the item is gone, that single customer will never be able to find it on YOOX nor watch the video again on YouTube, In other words… It's now or never!
Pop and colourful, the advertising spot reflects YOOX's DNA in a playful and fun way. Through the videos, YOOX confirm its role as pioneer in the digital world, with an original, appealing new way of advertising.
"The aesthetics and the concept of the animations reminds that of childhood cartoons, in which the narration is deployed very rapidly and the climax immediately reached. However, behind the simplicity of the video is an innovative technology which we have explored together with Google, which allowed us to obtain a truly captivating format," Filippo Vezzali, YOOX Creative Director.
Source: Little Black Book