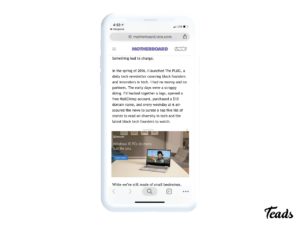 Teads, The Global Media Platform, announced an exclusive global partnership with VICE Media to deliver both video and viewable display advertising across VICE brands. With a focus on disruptive storytelling that pushes boundaries, VICE is the leader in producing and distributing high quality youth content, connecting with hundreds of millions of young people every month.
Teads' Global Media Platform will enable VICE to scale both its video and viewable display inventory, and increase video and display ad monetisation through both its direct sales team as well as via Teads demand globally.
Alex Payne, VP Global Programmatic Solutions at VICE Media, said: "VICE is excited to be working alongside Teads, who we have found to deliver reliable and consistent high-quality brand video content through ad formats that perform yet respect our users' experience. We see them as part of our growth internationally, supporting our strategy to align with demand partners that share our presence and aspirations on a global scale."
Jim Daily, President of Teads said: "As one of the most important media companies shaping conversation and culture online today, Teads is delighted to deepen our relationship with VICE Media. Millennials want authentic connections when it comes to content, and authentic advertising experiences that are relevant. With Teads' product suite, the VICE audience will get to connect to the brands they care about most via formats that are designed for the mobile experience. In addition to its unique innovative ad formats, Teads allows publishers to access an innovative technology stack that captures Teads' industry-recognised, outcome-driven advertising. Using the "Teads Publisher Suite" (accessible in BETA), publishers can autonomously leverage real-time reporting, actionable optimisation analytics, unique AI-driven programmatic ad decisions and outcome-centric creative optimisation."
This partnership continues Teads' mission of working with the best media brands in the world – the company now reaches 1.4 billion people across the globe. For brands and advertisers, Teads provides quality, brand-safe environments with renowned media brands, and is a founding member of the IAB's Gold Standard.
Teads is dedicated to continued innovation in video and display advertising – offering advertisers and publishers cutting-edge creative technology, driven by Teads Studio, and AI-driven optimisation. This innovation-led approach means Teads is a strategic partner for publishers, guaranteeing reliable and effective technology solutions.
Source: Teads