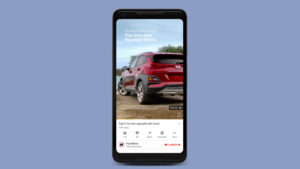 YouTube is embracing vertical video ads to let brands "provide a more seamless mobile experience" for viewers, it revealed at DMEXCO on September 12 where it also revealed plans to sell advertisers video ads based on users' personalised home feeds.
Advertisers can now snap up slots that fill up a users' screen when they're viewing content on YouTube's mobile app in a similar way to the ads served by the likes of Instagram and Snapchat.
When viewers tap on a vertical video ad they can be redirected an external link, like a company website. Hyundai is among the brands to have trialed the new creative format, which expands based on the dimensions of the video.
YouTube's chief product officer Neal Mahon said that, when used in combination with the Google-owned platform's classic horizontal video formats, the test campaign to promote the automaker's most recent SUV model resulted in a 33% uplift in brand awareness and a 12% uptick in purchase consideration.
YouTube has long accommodated vertical video uploaded by users – "dynamically adapting" ratios for mobile in line with the way a video has been shot, but today's announcement marks the first time the company is letting brands serve bespoke vertical creative within its walls.
"It's actually something we had been hearing from advertisers and their creative agencies for some time, and now we're happy to deliver it and my expectation is that what they do with it will exceed our expectations from a creativity standpoint," Mahon told The Drum.
The feature will be available to advertisers buying TrueView products (which brands only pay for it users opt-in to view their ads) and Universal app campaigns. With more than 70% of YouTube watch time happening on mobile devices and changes in user behaviour owing to the likes of Snapchat, the move makes sense.
"As more video gets shot vertically, we want to take advantage of the full canvas and not just have it rammed into the horizontal [layout] with black bars on the side," explained Mahon.
YouTube also announced that it will let brands buy inventory in individuals' Home feeds, meaning companies can serve tailored content against a person's personalised recommendations.
Mahon said the amount of watch time driven by recommendations on YouTube's home feed has grown three-fold over the past three years. "Just like it's this engaging place for users, we think it can be a great place for advertisers to connect with them," he said, adding that both video and "rich display" ads will be able to be bought in this context.
YouTube's move to bulk up its mobile arsenal comes amid growing competition from Instagram, Facebook and Snapchat. The former two platforms have recently rolled out their own fresh video propositions in the form of IGTV and Facebook Watch offering a challenger to YouTube's flagship offering.
Source: The Drum