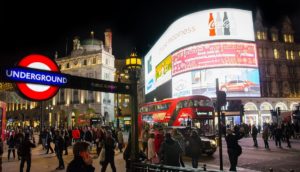 Digital advertising spend in the UK is expected to grow to above £15bn this year with double digit growth predicted as the nation shifts away from traditional media forms, according to a report from Barclays Corporate Banking.
The bank highlights out-of-home (OOH) advertising as one of the areas where an impact is likely to be made, after digital OOH advertising surpassed traditional outdoor advertising for the first time in 2018. The report points to the increasing availability of digital signage and how smart data is helping companies to provide personalised targeting linked to specific locations.
Furthermore, the report looks at next-generation technologies, such as artificial intelligence, augmented reality and machine learning, and how these are set to transform advertising in 2019 and beyond.
Barclays spoke with industry leaders across marketing services as part of the report and found that, despite overall optimism, there are concerns around relationships between agencies and the so-called FAANGs – Facebook, Apple, Amazon, Netflix, and Google. Experts warned that agencies must keep their distance and make sure to retain their 'objectivity and discretion.
Within the FAANGs, Google and Facebook account for 58 per cent of the $111bn global digital advertising market, Meanwhile, Netflix is the only one of the gang to have grown organically – with the other four completing more than 400 M&A deals since 2007. Barclays predicts this trend will continue due to private equity firms maintaining interest in the sector and the restructuring of companies like WPP 'presenting a range of opportunities'.
"Fintech grabs all the headlines, which is understandable given the number of fintechs doing amazing things and delivering spectacular results. It feels like ad tech is slightly pushed to the sidelines, which is a mistake as it is transforming advertising and can be another real growth engine for the UK economy. Ad tech is already helping UK businesses compete on the global stage and will continue to allow brands to market themselves more effectively as further technology advances are harnessed," said Sean Duffy, head of TMT at Barclays Corporate Banking.
"Our conversations with marketing leaders revealed significant optimism in the sector and a clear recognition of the need for agencies to evolve constantly to meet client needs. Brands today want to know what they're paying for, understand who their campaigns are reaching and have access to credible performance data on campaign effectiveness," added Sean.
"A priority for agencies and their clients now is to balance the desire to exploit cost-effectively the opportunities presented from the rise of digital and the potential for data-driven targeting, with the growing consumer and regulatory demand to respect privacy and not let personalisation appear intrusive."
Source: Mobile Marketing Magazine