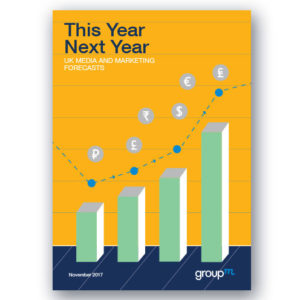 UK advertising is set to see a ninth successive year of growth, and the nation will remain one of the fastest-growing media markets in 2018 with a 4.8% increase predicted to take total investment to £19.8 billion. This is according to the latest forecast from GroupM, one of the world's leading media investment group.
The WPP-owned group raised its UK expectations from the 4.5% growth it predicted six months ago. GroupM now also estimates that 2017 will conclude better than expected with investment totalling £18.9 billion (5% growth, up from the 4.1% earlier predicted).
GroupM also forecasts that digital, 'pure play' internet will hold 60% share of UK ad investment in 2018. The forces supporting this include rising digital audiences, growing e-commerce and marketer short-termism, where performance-focused digital media is harnessed to drive near-term return-on-investment (ROI).
"Advertising investment remains stable despite a fragile economy," said Adam Smith, GroupM's Futures Director. "The focus of marketers remains relentlessly short-term and arguably underweighted relative to long-term brand building in broadcast media. This favours performance-oriented digital media which continue to be the most robust growth story despite concerns over measurement, transparency, brand safety and other issues".
Both Facebook and Google reported third quarter global revenue growth that beat expectations and though neither itemise their U.K. revenues, their success is in evidence in GroupM's view of investment flows. GroupM believes pure play digital advertising will grow by 13.3% in 2017 and 9.8% in 2018.
A notable area of growth within digital, which the GroupM forecast highlights, is Audio/Visual (A/V) content creation, now routine in campaign planning. According to the IAB, 'content and native' in digital media alone is a £1.3bn business; it grew 28% in 2016 and 14% in the first half of 2017.
In part, digital advertising may also be beginning to exhibit price inflation as more brands crowd in while data and technology costs rise to enhance quality and ensure viewability, or the 'opportunity-to-see'. "The larger digital looms in share, the more vociferous and voluminous the challenge around measurement, accountability and brand safety will be," said Smith.
Some advertisers paused YouTube investment early this year over contextual brand safety concerns, but GroupM estimates two-thirds of those UK 'pausers' have returned at normal investment levels. The other third may be lingering with addressable TV and other alternatives they found effective. Another issue for digital in the year ahead is the European Union's General Data Protection Regulation (GDPR) which will take effect in May. It brings new definitions of 'personal data' and new compliance rules (and penalties) which may make marketers more cautious.
In aggregate, 'legacy media', including its digital components, will shrink 4.4% in 2017 and a further 2.0% in 2018 according to GroupM.
Per GroupM's estimates, TV's first decline in five years will amount to 2.9% in 2017, but is likely to stabilise in 2018 in a context of slower audience loss and attractive pricing. Linear TV is not naturally a young medium and in 2017, GroupM believes impressions among 16-to-24-year-olds will fall by 12%, and by 8% among 16-to-34-year-olds. Some of this loss in viewership may be overstated due to poor measurement of audiences across diffuse TV platforms, and the industry can look forward to some improvement with BARB's 30-platform Dovetail measurement, due March 2018. This portends better measurement of video-on-demand, which has already shown good performance growing investment in 2017, due in part to online brand safety scares.
The outlook for legacy media beyond television remains tough. GroupM trimmed its prior 2% forecast for Out-of-Home advertising growth to zero in 2017. For 2018, the view is slightly more positive at +2%, if promised improvements in effectiveness, automation and efficiency bear out for this increasingly versatile medium. Worse is GroupM's prediction for the National News brands which are estimated to decline by 12% in 2017 and 8% in 2018. Some hope for mitigating these revenue declines are pinned to PAMCo's Audience Measurement for Publishers which goes live in February. It will include a new comScore element allowing planners to build schedules including Facebook Instant Articles and Google's Amp.
"Our forecast shows a stable market in an overall low-growth consumer spending environment. This is encouraging, but we are concerned about pressures on marketers to overweight short-term ROI versus brand building for the long-term. It's imperative they get the balance right", said Nick Theakstone, CEO, GroupM UK. "It's also crucial that the industry deliver better audience measurement to support media planning for performance and brand building alike. As ever, we lend our full support to industry initiatives like BARB's Dovetail and PAMCo's AMP while also filling the gaps we see, like scaling an accountable addressable TV market with our new business, Finecast."
Source: GroupM