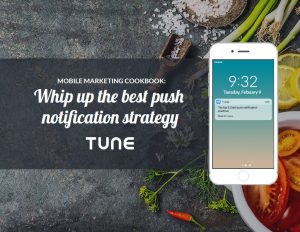 Location-based notifications can make the difference between a successful, engaging app and one that is soon uninstalled, with 84 per cent of millennials more likely to take action when notifications are tailored to their current location, according to a new whitepaper from Tune.
Location data is just one of the crucial tools needed to optimise how a brand connects with its app user audience. Tune's whitepaper, Mobile Marketing Cookbook: Whip up the Best Push Notification Strategy, breaks down the various options available to marketers, and how they can be best deployed.
With mobile ad spend exceeding $100bn in 2016, a solid user acquisition strategy is no longer enough. Brands and developers need retention and activation strategies in place to ensure new users become regular users. In order to achieve that, marketers must combine segmentation, personalisation, tailored content, location targeting, post-open experiences and more for a unified and effective communication approach.
"Even some big brands aren't heeding basic push principles and are asking users to accept notifications without telling them why they need them, and not personalising messages," said the report authors. "Marketers who are pulling ahead in push should be given a gold badge of mobile marketing honour, because it means they understand their audience."
The full Mobile Marketing Cookbook whitepaper can be download for free here.
Source: Mobile Marketing Magazine