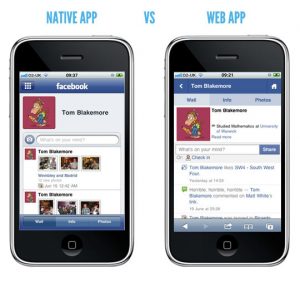 In the battle between the mobile web and native apps for advertising, the mobile web appears to be losing out in Asia-Pacific. New research from mobile advertising data company Vpon found that 77% of mobile ads served during H1 2017 in the region were delivered via mobile apps, not the mobile web.
In several countries in Southeast Asia, mobile web ads made up an even smaller share of all mobile ad impressions, according to Vpon. In Indonesia, for instance, only 10% of ads were delivered on the mobile web. Thailand had a similarly small mobile web ad share at 15%, as did Malaysia at 18%.
While not a part of Southeast Asia, India also saw a relatively small proportion of ads delivered on the mobile web—just 14%.
Meanwhile, Greater China (a geographical region that includes Mainland China, Hong Kong and Taiwan) had a larger percentage of mobile web ads than other markets within Asia-Pacific. More than one-third of mobile ads in China were delivered via the web, and the figure reached 42% in Hong Kong.
The prevalence of mobile app ads in Asia-Pacific raises the question of whether the mobile web can support publishers relying on the channel to generate self-sustaining revenues.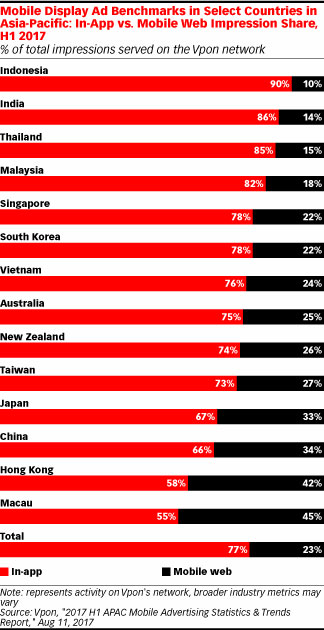 In India, for example, Times Internet—the digital arm of newspaper group Times of India—has expanded beyond the news to offer consumers a range of apps. "We have apps that help students revise for exams, as well as a spending aggregator that helps you find where your money is. Basically, we started in media and then headed out in a variety of different directions," said Gulshan Verma, Times Internet's chief revenue officer.
Interestingly, a worldwide study of smartphone users conducted by the no significant difference in consumer response between the two types of ads.
For instance, ads on mobile apps elicited a response from 47% of respondents. That was only slightly higher than the 45% response rate among those who experienced an ad on the mobile web.
Similarly, the study found that 90% of smartphone users remembered a mobile web ad within a few days, while almost the same number, 86%, recalled a mobile app ad.
Vpon's data also revealed that the majority of ads served in the Asia-Pacific region are older display formats. In fact, 53% of mobile ads served in the first half of 2017 were banner ads, while 36% were interstitials.
Video ads accounted for just 4% of mobile ads served in Asia-Pacific in H1, by Vpon's count. However, the company's tally did not include video ads served on YouTube or Facebook, two of the largest platforms for free videos in the world.
One thing is certain: The audience for mobile ads has nowhere to go but up in Asia-Pacific. eMarketer estimates mobile ad spending in the region will total $53.21 billion this year, and will grow to $115.82 billion by 2021, when it will account for 77.5% of all digital ad spending there.
Source: eMarketer