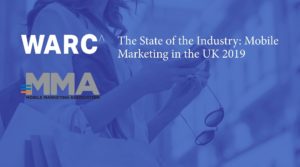 Mobile is increasingly seen by marketers in the United Kingdom to be an effective marketing channel, but as it continues to be a disruptive force across industries, it has yet to reach its potential.
These are some of the findings included in the State of the Industry: Mobile Marketing in the UK 2019, an annual report released on September 19, providing a current snapshot into how brands, agencies and tech vendors see the impact of mobile – its use as a tool for advertising effectively, as well as opportunities and concerns.
The report is based on a survey of UK marketing professionals carried out by WARC, the global authority on advertising and media effectiveness, on behalf of the Mobile Marketing Association (MMA), the world's leading global non-profit trade association.
The report highlights the following key insights in the UK:
Mobile disruption and innovation: Mobile marketing continues to be a disruptive force across UK industries with 93% of survey respondents seeing an impact, of which just over half (58%) see mobile as a major disruptor, while 35% expect a bigger impact in the future. Mobile payments have remained important for marketers in the UK with 45% of respondents agreeing that it is a key consumer behaviour. Leisure and entertainment is seen as the most innovative sector in mobile (39%), closely followed by financial services (35%), travel, transport and tourism (34%) and retail (29%). Amazon is cited by the highest number of respondents as the most innovative brand in the UK, followed by Facebook, IKEA and Under Armour.
Mobile strategy, budgets and integration: For both clients and agencies, mobile in the UK is lacking a clear learning strategy, with 43% of client-side, media owner and tech vendor respondents and 51% of agency respondents saying that they or their clients are not ready. 39% of agency respondents feel that their clients are most prepared for collaboration with external partners but only 20% felt their clients have the internal support they need. Over a quarter of respondents predict that they will spend more than 30% of their budget on mobile over the next year. 78% of marketers will invest up to a quarter of their budget on marketing technology in 2019.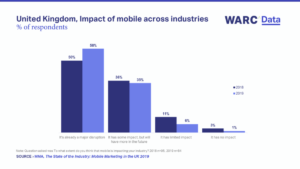 Mobile tactics and technologies: Social media remains the most frequently used media channel for mobile marketing (86%) with Facebook being the most used platform (91%). Instagram and YouTube follow in popularity. In the UK, mobile video advertising is a focus for 54% of respondents, with mobile social advertising at 50%. Mobile web display is the focus for 46% of UK marketers this year, and 53% will use branded content in the next five years. Despite a decrease, location data continues to be the most utilised technology by mobile marketers (51% this year), but augmented reality and artificial intelligence are top choices to make an impact by 2024.    
Barriers and challenges: Mobile is playing a significant role in the customer purchase journeys of 81% of brands. Post GDPR, measurement and metrics as well as privacy concerns remain problems for the growth of mobile marketing in the UK. Engagement metrics, like sharing and video completion rates, remain the most used measurements for mobile marketing effectiveness.
Summing up, Amy Rodgers, Managing Editor Research & Rankings, WARC, commented: "The findings of this year's survey reveal that mobile marketing is becoming increasingly more effective and is impacting all sectors across the UK, and this is set to continue with three quarters of UK marketers expecting to increase their mobile budgets over the coming year."
The comprehensive report provides agencies, media owners and brand owners alike with insights to benchmark their clients and peers, gain guidance on mobile trends, and identify future challenges and opportunities.
Source: WARC