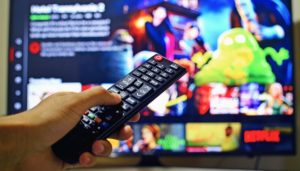 Households in developed countries are set to have at least three separate TV and video subscriptions by 2023, as teenagers increasingly become account holders alongside the adults they live with, according to Deloitte.
On average, UK children receive £11.20 in pocket money each week, while pay TV subscriptions tend to start at around £5 per month. Due to this, Deloitte expects more and more teenagers will become responsible for their own subscription video on-demand (SVOD) services.
"The relative affordability of a huge wealth of streamed content is incredibly attractive for media consumers of all ages," said Dan Ison, partner and head of media and entertainment at Deloitte. "As no single person may be paying or overseeing all subscriptions paid for by each member of the household, the aggregate number of subscriptions may proliferate invisibly. This means that households will increasingly have multiple media subscriptions that cater for individuals' needs, whether you're a sports-nut, history-buff or movie fan. Teenagers' pocket money, once spent on comic books and magazines, will go towards SVOD subscriptions."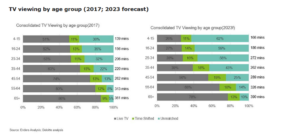 In addition to the increasing number of teenagers with their own subscriptions, Deloitte predicts that viewers aged 50 and over will watch 15 per cent of all TV content on-demand by 2023.
The rise of on-demand viewing in older age groups is expected to be driven by ease of use, improvements to connectivity, and influence from younger consumers within their families.
"Older age groups will be nudged into on-demand viewing by their own peer group and the behaviours of younger generations in their family," said Ed Shedd, partner and head of technology, media and telecommunications at Deloitte. "As such, on-demand services, from broadcasters and subscription services, need to be as easy to use as traditional TV. Design and testing should be done by people who represent the target audience, and not just younger age groups. User interfaces should not be intelligence tests; font size selection should not replicate an optician's test."
Source: Mobile Marketing Magazine