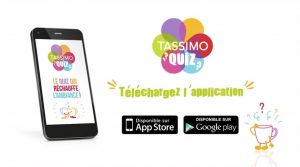 To create buzz for the launch of the app-based quiz 'Tassimo Quiz', Havas Media assigned TF1 to produce branded short clips, which take place in the universe of the comedy series "Nos Chers Voisins". With 2016's Christmas season just around the corner, the holiday-themed clips show one of the series' families gathered at the dinner table and having fun with the quiz app. All of the three clips were not only distributed via TF1's website, but also shared across the French digital outlets of Tassimo.
The 'Tassimo Quiz' app is the perfect opportunity for friends and families to get to know each other better since players have to answer questions such as 'What is the craziest thing you have done?', 'What is the most unusual place you have slept?', or 'Can you touch your nose with your tongue?'.
Since Christmas is the time where families usually meet and spend time together, Tassimo aims at getting users to download the app especially during the holiday season and developed a marketing strategy accordingly.
The app was seamlessly integrated into the comedic one-minute clips starring the "Nos Chers Voisins" characters Aymeric, Amélie, Pierre-Antoine Dubernet and their neighbor Karine as they play the game during Christmas and get to know each other. To place the app into "Nos Chers Voisins" was a clever move since the whole series centers on people from different walks of life living together in a big building.
Source: The Drum