Target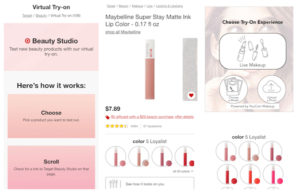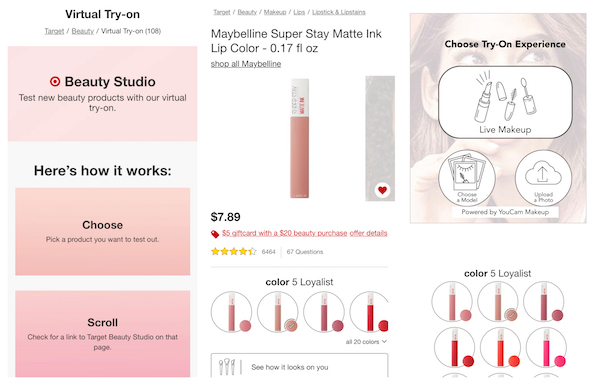 has unveiled a Beauty Studio feature that uses augmented reality to try a selection of cosmetics (including lipstick, blush and eyelashes) on Target's desktop and mobile websites as well as kiosks in 10 retail stores. Tech from YouCam maps the products to a shopper's face either in real-time or through a photo.
Target is also introducing online Beauty Concierges that can offer text-based tips from the store.
"When it comes to shopping beauty, our guests love to explore," said Christina Hennington, senior vice president of Beauty and Essentials at Target. "With the introduction of these new initiatives, which blend physical and digital to create an enhanced experience, we're giving Target's guests even more convenient options to find the perfect beauty items for their unique needs."
Guests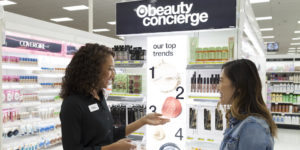 can virtually try on hundreds of makeup items, including different lip colors, cheek colors and false eyelashes instantly via a new beauty augmented reality experience, Target Beauty Studio, on Target.com (desktop and mobile).
In partnership with Perfect Corp.'s YouCam Makeup, a leader in augmented reality and artificial intelligence beauty solutions, Target's experience uses real-time facial mapping technology, letting guests explore and have fun without the mess. The service is also now available in 10 select stores via a digital screen in the beauty department, and will roll out to more stores later this year.
Beauty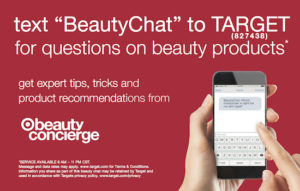 Concierge representatives will also be available via new text-to-get beauty advice services and soon-to-launch Target.com beauty chat. When browsing the Target.com cosmetics or skin care pages, a chat icon will pop up when the service is available. Shoppers simply click on the icon, type in a question and a Beauty Concierge representative will provide answers in real time.
Guests also can use the text-to-get beauty advice service by texting "BeautyChat" to "Target" (827492) to receive speedy responses from a Beauty Concierge representative.
Source: Retail Leader