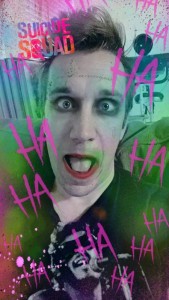 Warner Bros. is transforming Snapchat users into a version of the Joker from the upcoming film Suicide Squad with a limited-time sponsored lens, a move to reflect fan feedback for a recent trailer.
The film studio is amidst a reshoot to include more upbeat and humorous moments in the upcoming movie, following positive reception from a new trailer that focused on its comedic moments. Warner Bros. is hoping to ramp up awareness and greater appeal to what fans want through marketing initiatives such as the Snapchat filter, which allows them to have fun with the film.
"This is an effort by Warner Bros to gain buzz, anticipation, and demand, theatre goers, for the release," said Thom Jordan, CEO of Ping Mobile. "As more eyes are on mobile, and social, and Snapchat, they are allowing the platform have the Joker filter sharing 'get out there' and promote the brand, I suspect.
"If all goes well from this filter, Warner Bros may make other Suicide Squad filters as the release get closer, to keep the content fresh and maximize the campaign," he said. "This will be interesting to watch."
Snapchat squad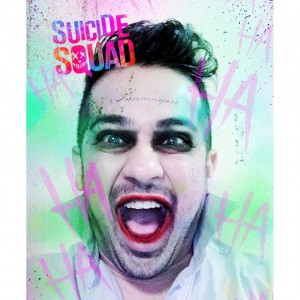 Snapchat users sent friends and family ominous videos and images of themselves transformed into a Suicide Squad character over the weekend. The interactive filter, which recognizes users' faces through recognition technology, overlaid digital makeup and a setting reflective of the film's cinematography on top of live selfies.
Users were transformed into a Joker-like character with red lipstick, milky eyes and dark eye shadow with the word 'damaged' written across their foreheads. While moving in frame, the makeup remained in its designated position on the user's face.
When the user opened his or her mouth, balloons featuring icons of other characters from the film appeared and then popped, with the text "ha, ha, ha, ha" showing all over the screen. In the background, an ominous voice could be heard laughing.
Participants can record themselves interacting and moving with the filter by holding the photo button or can take a still selfie by just tapping it. Snapchat users can send it to specific friends, upload it to their story and save it to their camera roll.
Warner Bros. has showed it has plans to appeal to the masses for the film by scheduling reshoots to attract a bigger audience with a more comedic tone. Following the significant success of the comedy-driven superhero film Deadpool, the film studio released a new trailer of Suicide Squad that showed a different side compared to the darker, serious one previously released.
Viewers responded to the new trailer extremely positively, which prompted Warner Bros. to pack more light-hearted moments into the film.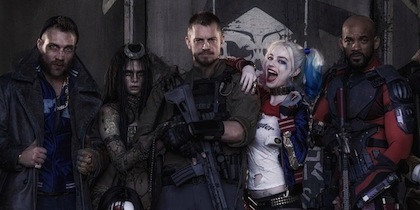 Mobile messaging pushes
Domino's Pizza UK also similarly rolled out new digital advertising initiatives with a slew of mobile-first components, including a branded channel on a GIF repository site and sponsored Snapchat lenses that played into the campaign's mind-boggling theme.
Warner Bros. also brought its other big-screen superhero film to the small screen with a sponsored 24-hour Discover channel on Snapchat as part of the social media hype to include mainstream consumers in the fan frenzy.
"Warner Bros is looking to leverage the viral and social sharing capabilities of Snapchat as well as its filter features to promote the new Suicide Squad film, which features Jared Leto as the Joker," Mr. Jordan said.
"Warner Bros hope to also maximize the fun and amusing filter just in time for April Fools Day enabling users to entertain, amuse, and laugh with/at friends while donning the Jokers green hair, scary face and signature red smile."
Source: Mobile Marketer