Starbucks is inviting Facebook users to find out which iced coffee drink best suits their lifestyle, reflecting a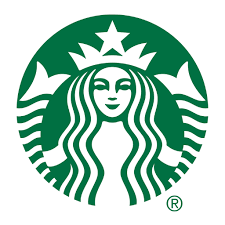 resurgence in popularity for mobile-optimized personality quizzes as consumers seek out quick hits of entertainment.
The coffee giant is sponsoring ads on Facebook to promote its newest mobile quiz, which consists of eight summer-themed questions designed to identify the Starbucks iced coffee drink that matches up with a user's personality. The quiz, which is the latest instalment in Starbucks' mobile marketing blitz on social media, is an ideal way to ramp up awareness of the brand's cold beverages and inspire consumers to pick one up the next time they are in the vicinity of a Starbucks store.
"Many coffee drinkers, and especially loyal Starbucks customers, are very passionate about their caffeinated beverages," said David Naumann, vice president of marketing at Boston Retail Partners. "Engaging customers in a fun, interactive quiz is a great way to increase the awareness of various iced coffee drinks that consumers might not know about or be top-of-mind.
"With the addition of Facebook and Twitter share buttons, Starbucks' fans can share the quiz and, more importantly, their results with all their friends, which magnifies the reach of the campaign."
Icing up summer sales
Facebook users may spot Starbucks' ad interspersed with other content in their news feeds. The ads invite them to take the quiz to discover which iced coffee drink they are.
Clicking on the "Learn More" button will bring consumers to the mobile-optimized quiz site, on which they will be tasked with answering eight questions before receiving their results.
One of the questions asks users, "If you could bottle summer, what would it smell like?" Multiple-choice answers include "air conditioner," "campfire," "swimming pool" and "backyard BBQ."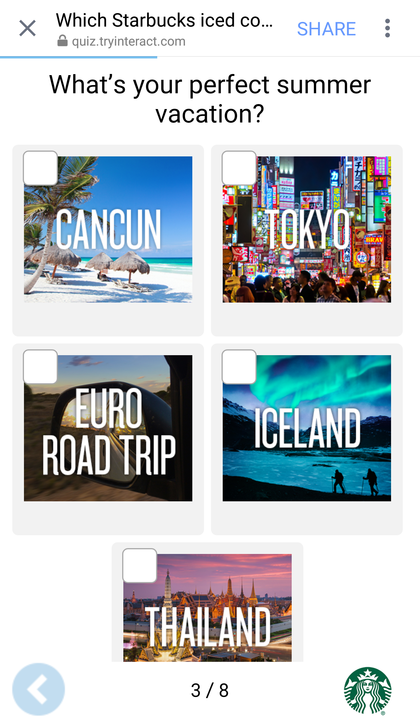 Another question inquires, "What's your perfect summer vacation?" with choices including Cancun, Iceland, Thailand and Tokyo.
Quiz-takers can also answer questions such as "Which emoji story best describes your summer?" and "Which flavour brightens up your day?"
Answering all eight questions will bring individuals to the results page, where they will be presented with the Starbucks iced coffee beverage best-suited to their preferences. Each drink is accompanied by a small description explaining the result.
For example, a consumer who receives Starbucks' Doubleshot on Ice beverage as his or her ideal iced coffee drink will also see a paragraph revealing, "You're driven and fearless but keep your cool – even when things get shaken up. You're the Starbucks Doubleshot on Ice! Bold, balanced and the only espresso beverage that's shaken to create a smooth, mellow flavour."
Individuals can then share these results with their social media followers by tapping the displayed Twitter or Facebook icons.
Mobile quiz frenzy
A growing number of marketers are leveraging the newfound resurgence of consumer interest in easily snackable mobile quizzes that divulge facets about their personality while suggesting new items to test out.
Starbucks, in particular, has found this strategy to be effective in connecting with its large millennial fan base.
Several months ago, the chain fuelled digital sales by inviting Twitter users to take a quiz designed to discover the coffee flavour best suited to their tastes and click through to a mobile-optimiz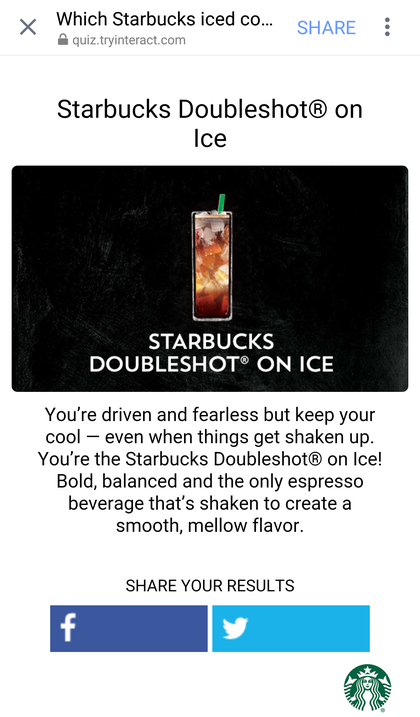 ed shopping site to purchase a bag.
Starbucks is also keeping its chilled drinks at the forefront of consumers' minds as warmer weather arrives
with Frappucino and party-themed content across social media, including Snapchat lenses .
However, the brand could bolster the return on investment of its mobile quiz even more by including a coupon code alongside players' results. For example, consumers could receive a BOGO mobile coupon to use for their next in-store purchase of a Starbucks iced coffee drink, giving them an incentive to buy the cold beverage suggested to them by the quiz.
"Adding a coupon code or an order-now button on the mobile quiz would be a smart way to inspire more purchases of iced coffee drinks at Starbucks," Mr. Naumann said.
"Many Starbucks customers are religiously using the Starbucks mobile app and adding this quiz to the mobile app or a link to the Starbucks app from the Facebook quiz would be a great way to make it easier for consumers to take the next step and actually purchase the drink that results from the quiz."
Source: Mobile Marketer