Video

ad serving platform SpotX has set aside its differences with fellow video advertising platform Smartclip to form a single global company operating under a joint management team.
The merger will see creation of an ad tech powerhouse operating under the SpotX brand capable of providing over 1,000 broadcasters and digital publishers with the tools needed to maximise digital monetization.
Significantly the newly forged partnership will expand SpotX's footprint outside the US by over 40%, enabling it to allocate resources toward investment and innovation.
SpotX's co-founders, Mike Shehan and Steve Swoboda, will continue to serve as the CEO and CFO respectively of SpotX following the transition, whilst the co-founders of smartclip; Jean-Pierre Fumagalli and Roland Schaber, will report to them as general managers for Europe.
Mike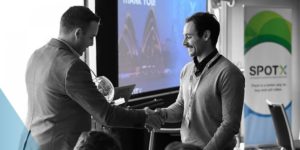 Shehan, co-founder and CEO, SpotX commented: "In the 'total video' industry, scale matters and the combination of SpotX and smartclip will enable us to compete more effectively in the dynamic programmatic video landscape, enhancing the enormous, exciting potential of our best-in-class technology platform, products, and services. The results speak directly to our companywide commitment to making our clients and partners successful and combining the strengths of two great companies with a common goal. This is a key element in RTL Group's 'Total Video' strategy."
Smartclip branding will continue to be used in select local markets following completion of the merger, which will be phased in over the course of the year.
SpotX was acquired by parent firm RTL for $145m in August of last year.
Source: The Drum