Consumer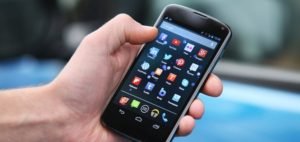 spending on apps jumped 22% to $18.4 billion worldwide in Q1 2018 from a year earlier, driven by growth in music and audio, health and fitness and game categories, researcher App Annie said in a quarterly report. Downloads from Apple's App Store and Google Play grew 10% to a record 27.5 billion during the period.
Shopping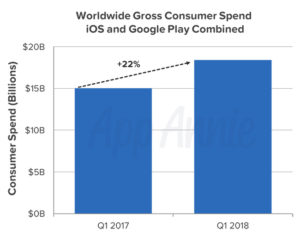 apps also were popular as smartphone users continue to migrate toward apps and away from mobile websites, while e-commerce providers and traditional retailers put more emphasis on the mobile shopping experience. Shopping apps are particularly popular in South Korea, Indonesia, India and Japan, per a separate App Annie report.
Google Play generated more than twice as many downloads as the App Store, but Apple had 85% higher sales given the popularity of free apps for Android devices. The average smartphone user spends nearly 3 hours a day in apps and accesses about 40 apps a month, per App Annie.
The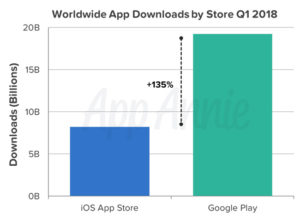 global app market posted another quarter of double-digit growth, with several trends emerging among apps categories and geographies. Consumer spending on Google Play grew 25% in Q1 2018 from a year earlier to narrow the gap with iOS, which saw a 20% gain, per App Annie. App Annie monitors subscription revenue, paid apps and in-app purchases, but the app economy is actually much larger with third-party Android stores, in-app advertising and m-commerce, which includes ride-hailing and shopping.
Google Play's highest-growth category was in music, audio and entertainment apps, which likely reflects the growing popularity of streaming services like Spotify, Pandora and Slacker. The App Store saw the most growth in the health and fitness category, which may indicate that many iPhone users sought an app to help with New Year's resolutions to get exercise or lose weight.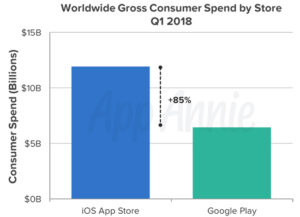 A growing number of people are subscribing to fitness apps that provide workout routines and monitoring calorie intake, per App Annie.
The United States, Russia and Turkey posted the strongest growth among iOS downloads, while India, Indonesia and Brazil were the fastest-growing for Google Play. That difference likely reflects Android's bigger selection of free apps that are more affordable in developing markets than paid apps or subscriptions.
Source: Mobile Marketer