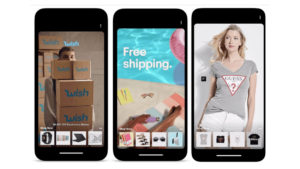 Snapchat has rolled out self-serve shoppable ads to all advertisers, as it looks to up its eCommerce revenues with a multitude of updates.
The move shows the company is increasing both the sophistication and utility of its Snap ads vertical formats for potential brand partners, removing friction in the process.
Having launched shoppable AR lenses in April, Snapchat has been reported to be testing shoppable ads since June with select partners. Wish.com and eBay were among the first out of the gate.
The company announced some of favourable early statistics from the pilot of this feature. Comparing shoppable Snap ads to standard Snap ads featuring the same products it noted that: eBay reported five-times more engagement; Wish.com's was 17-times higher; and Guess was 4.1-times higher.
Snapchat will be hoping these figures can help attract more retailers into the service with the promise of high engagement among its some 188 million users. Click-through rates and sales were not released in the study at this stage.
The business is also launching another new feature dubbed 'product catalogs' which allows retailers to upload a library of catalogue information in spreadsheet format to best inform those using the app. Information includes image, price and colour. Once on board, the data can be used to speed up the creation of ads across its ecosystem, including story ads, Snap ads and shoppable Snap ads.
Further improvements include advanced pixel targeting that helps advertisers build custom audiences; an expansion of the Snapchat Partners scheme. The app is also set to build out its explainers and webinars on how to use all the aforementioned eCommerce products.
The play from Snap comes after the company recently brushed off concerns about competitors adopting vertical ad formats. On the subject, Facebook – which in many respects lifted the 'Stories' format from Snapchat – is bringing ads to its rival ephemeral service, offering alternative ad real estate now that the news feed is maxed out.
Earlier this month, Instagram Stories announced that it was rolling out in-app shopping globally. The Facebook-owned platform has more than double the daily users Snapchat does, and claims that 90 million people tap on shopping 'tags' in buyable posts each month.
Recently, eMarketer significantly lowered its projections for Snap's ad revenues for 2018, predicting it will generate £68.4m in revenue for the UK compared to the £104.8m that it had estimated in March.
Source: The Drum