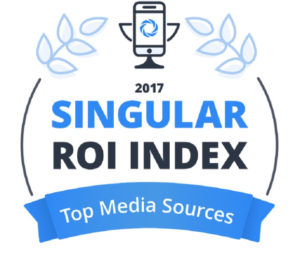 Singular has created its second annual index of the best return-on-investment (ROI) for mobile ads, and it has a few surprises. Snapchat showed up in a big way on the index, as marketers increased their mobile ad spending on the social network and got solid results. Twitter also showed growth on both iOS and Android among non-gaming marketers.
in 2018, San Francisco-based Singular's ROI Index sliced the data more finely, offering ROI results for gaming or non-gaming ads, as well as regional performance. The study ranks the top-performing mobile media sources on iOS and Android by 30-day ROI, or how much profit is generated by through advertising spending.
Singular chief operating officer Susan Kuo said in an interview with VentureBeat that previous attempts to measure ROI have measured ad network performance using metrics like retention and revenue per install. But they have neglected to take into account the actual cost associated with driving such engagement. Drawing on both conversion and cost data, the Singular ROI Index uses data from both sides of the industry — ad networks and attribution providers — to rank networks based on the most important metric for mobile marketing teams: ROI.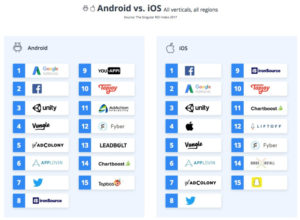 Singular analyzed data from 1,700 apps with $1 billion in revenue and 315 million installs spread across 1,200 mobile media sources. The ranking considers quality​ (based on ROI or revenue divided by cost), scale  (total ad spend), and fraud (the penalty based on the percentage of fraudulent installs driven by a media source).
"Snapchat didn't surface in 2016, but in 2017, it saw impressive results with non-gaming marketers," Kuo said. "And across the board, Twitter jumped from eighteenth to seventh."
Singular is positioned to evaluate ROI as a mobile attribution and campaign analytics platform. Its customers include top marketers at Lyft, Yelp, Rovio, Postmates, Airbnb, and Blizzard.
Among the index's findings: iOS held its lead in the gaming category, but Android made significant headway in closing the gap. Additionally, iOS drove 1.2 times higher ROI in the game category, while Android showed 8 percent annual growth in ROI.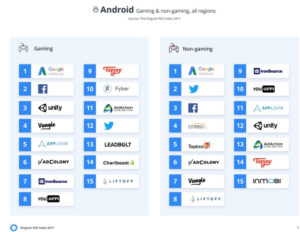 Singular also found that after not showing up in the rankings in 2016, Snapchat moved to No. 6 for the highest ROI for the non-gaming category and fifteenth-highest ROI across all media.
Twitter delivered the second-highest ROI across both Android and iOS in the non-gaming category. Apple Search Ads moved into the top five, as Apple captured a larger share of digital marketing budgets, rising from No. 23 (2016) to No. 6 (2017) in the list of highest-volume media sources.
Meanwhile, Google's AdWords reclaimed the top spot on Android from Facebook in 2017. Facebook, however, edged out AdWords in Europe and the Middle East. AdWords held the top spot in the Americas and Asia-Pacific.
Kuo also said that video media sources — Vungle, Unity Ads, and AdColony — climbed into the top five on Android and iOS. As for fraud, Kuo said, "We can see the fraudulent data and apply that as a penalty in the results."
Source: VentureBeat