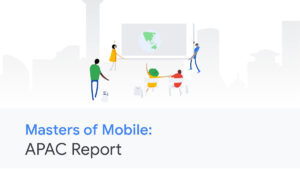 Mobile sites in the Asia Pacific (APAC) meet industry best practices in only two out of five mobile consumer touch points in product pages and mobile design.
Other touch points like findability, which is how fast consumers can find products on a site, registration, and conversation, and speed of webpage loading ranked lower.
This is according to a survey called 'Masters of Mobile', jointly produced by Accenture and Google.
The report, which studied 700 popular websites in 12 APAC countries across the finance, travel and retail industries, also found that conversions drop 20% for every second of delay in mobile page load time.
All countries surveyed had mobile site load times slower than the recommended three seconds, with China recording the fastest load times at 5.4 seconds. According to the report, this means that overall, mobile sites in the region need improvement.
It recommended brands to lighten the load by compressing text and image elements, reduce server response time to prepare for high traffic and avoid repetitive browser requests by caching static objects like images and HTML documents.
"We decided to implement a goal of improving our mobile web experience across the entire organisation because that's where most customers begin their shopping journey," said Gabriel Garcia, the head of marketing for APAC at Expedia. "Mobile not only delivers a high number of conversions but also helps us build brand equity by meeting customers' expectations throughout their travel shopping journey."
You can read the rest of the report here.
Source: The Drum