Ensemble Worldwide has created a touching brand film for Samsung as part of Samsung's 'Do What You Can't' campaign.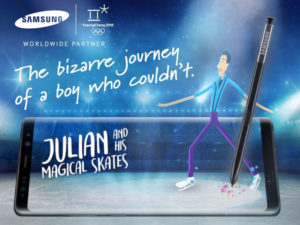 The short feature entitled "Julian and His Magical Skates" is a special tribute to the rising star Julian Yee – Malaysia's first national figure skater and first Winter Olympian, in view of his participation in the coming Olympic Winter Games, PyeongChang 2018.
Executive Creative Director of Ensemble Worldwide, Chan Woei Hern, said, "When we heard the story of Julian, it really captured our hearts, and revealed the essence of Samsung's 'Do What You Can't' campaign. The team set ourselves the task of imagining how we could tell his story, and that story literally came to life on the Galaxy Note8 as a canvas. That's the magic of technology at work."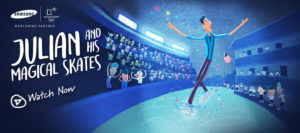 Production took 30 days from start to end, with the Ensemble team collaborating with MFX, a post production studio that specialises in animation, and with Fuse on sound design. All illustrations were done on a Samsung Galaxy Note8, Samsung's ultimate productivity device, with the one-of-a-kind S Pen. As background research, the team watched Julian's performance videos numerous times to fine-tune movements and allow the audience to feel the fluidity and art form of skating.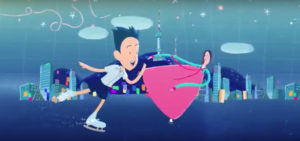 Woei Hern added, "Going old school and illustrating by hand allowed the artists to go back to the roots of 2D animation and work on characterisation. In the case of this film, the product placement made absolute sense when it came together at the end, as it was an essential part of the storytelling. When it came to the music, we challenged our sound design team to watch the film, and lay out their composition based on each scene. There are a lot of nice touches to complement the different scenes."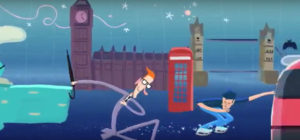 Elaine Soh, Chief Marketing Officer of Samsung Malaysia Electronics said, "This was a culmination of lots of people coming together to do what they thought they couldn't, which truly embodies the spirit of the 'Do What You Can't' campaign, to defy barriers and achieve the impossible. Samsung stops at nothing to create innovative technologies so that people can do impossible things. We are proud to support Julian, whose personal story serves as inspiration to us all; and we are inspired with the work of Ensemble who has managed to weave this magical story so beautifully and seamlessly with the use of innovative technology."
Source: Campaign Brief Asia