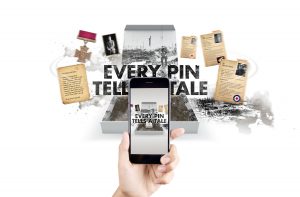 Britain's much-loved charity, The Royal British Legion, has taken its first steps into augmented reality (AR) to bring to life powerful stories from the Battle of Passchendaele to connect with young audiences.
Karl Turley, Geometry UK's Business Director explains that by blending sharp human behaviour insight with popular technology, stories from a century ago are being brought to today's audience, helping create much better understanding of trench warfare and the bravery of soldiers.
The idea expands the success of Geometry's 'Every Pin Tells a Tale' campaign. To commemorate the 60,083 soldiers who made the ultimate sacrifice at the Battle of Passchendaele, one of the First World War's bloodiest offensives, the Legion commissioned limited-edition Passchendaele 100 poppy lapel pins. British artillery shell fuses and earth samples were collected from the battlefields and melted down to create 60,083 poppy pins to honour and remember every British soldier who fell during battle.
Each pin comes in a commemorative box which, when scanned with the Blippar app, transforms into a muddy trench giving glimpses of the battle as you listen to stories of the fallen: personal triumphs, families and friends left behind by soldiers, pilots and nurses from across the Commonwealth.
One tells of Captain Noel Chavasse, British medical doctor and Olympic athlete, the only British serviceman awarded a Victoria Cross twice during the First World War. Hit by shell splinters in 1916 while rescuing men in no-man's land, it's said that Chavasse got as close as 25 yards to the German line where he found three men and continued the rescue mission throughout the night under a constant rain of sniper bullets and bombing. With similar heroics in the early stages of Passchendaele in August 1917 he was awarded a second VC, and died of wounds two days later.
Omaid Hiwaizi, Global Head of Experience Strategy, Blippar comments, "This showcases perhaps the most powerful application of AR for brands: to enhance and deepen the product propositioning. We worked closely with Geometry Global and The Legion to deeply understand the physical product and its story. That's how we've managed to create a portal into the world of the soldier in a muddy trench."
Sales from the campaign are helping generate income to provide lifelong support to all members of the British Armed Forces, veterans and their families.
Credits:
Client: The Royal British Legion
Agency: Geometry Global UK
Augmented Reality Developer: Blippar
Geometry Global:
Creative Director: Jez Cripps
Copywriter: Stephanie Gane
Art Director: Josh Crossley
Designer: Yan Cucco
Business Director: Karl Turley
Planner: Brendan Sturrock
Senior Account Manager: Vicky Yau
Project Manager: Nathan Royle
Head of Digital: Debbie Ellison
Blippar:
Developer: Edgar Adamovics
Project Manager: Marie-Claire Lindsay
Account Manager: Alisa Anantvoranich
Source: MarComm News