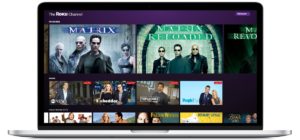 TV and movie streaming firm Roku has brought its free streaming service to the web in the US, meaning that anybody with a PC, mobile phone, or tablet can access the service.
The Roku Channel was launched back in September to offer free, ad-supported movies and TV shows to Roku device owners. Now, those without Roku devices can join in on the free entertainment – from networks like CW and Fox – on desktops, laptops, tablets, and smartphone, as well as on select Samsung TVs.
"We want to be the best destination for free streaming entertainment. We're delighted to deliver even more value to our customers without subscriptions, complicated logins or fees," said Rob Holmes, VP of programming and engagement at Roku. "By expanding The Roku Channel to the web, we're broadening the access points to high-quality, free streaming entertainment. With Featured Free, we're making it easy for our customers to see the great, free content already available on the Roku platform in one place, while creating value for our content providers by connecting them with Roku's growing audience."
In addition to bringing its ad-supported service to all, Roku is rolling out a navigation change to its home screen called 'Featured Free'. The change, which is being rolled out through a phased software update over the coming weeks in the US, provides access to quick access to popular free content from Roku's channel partners – including the latest in-season episodes of shows, full past-season catch-ups, and more.
Source: Mobile Marketing Magazine