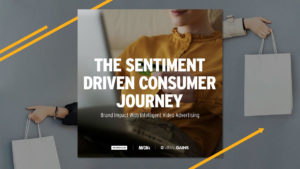 According to a new study, obtaining and responding to consumer sentiment is crucial to optimising the consumer ad journey, saving otherwise wasted video ad dollars and positively impacting brand affinity metrics.
The Sentiment Driven Consumer Journey, research conducted by MAGNA, IPG Media Lab and ViralGains, the industry's only video ad journey platform, takes a deep dive on the brand impact generated by intelligent video advertising.
The study tested two video ad journeys among 6,000 consumers in the third quarter of 2018. One group of consumers received a series of video ads optimised based on sentiment – specifically each viewer's level of interest in the first video ad – gathered via a poll served immediately after the advertisement. The second group received a series of videos that were served based on exposure only.
Key findings from the report include:
On average, 59% of ad impressions were wasted with standard video retargeting
Consumers on a sentiment-driven journey were more likely to take action – 2.7x more likely to search for the brand and 2x more likely to visit the brand's website
Sentiment-driven journeys:

Result in a better overall ad experience as 85% of consumers agreed the ads were interesting, 76% agreed the ads were relevant and 66% agreed the ads were informative

Improve brand perception – serving a corporate responsibility ad to viewers with low brand interest increased brand trust by 2.2x and brand favourability by 4x

Suppressing ads to audiences that have indicated they are not interested in your brand and reallocating impressions to those who have shown interest can deliver an average of $59k in savings for a $100k campaign
"Marketers know that a great story is a relevant story, and the best marketers understand that they must use consumer sentiment to create customised and relevant consumer journeys; otherwise they risk not improving brand or product purchase intent or worse—increasing negative sentiment about their brand," said Tod Loofbourrow, Chairman and CEO, ViralGains. "Engage consumers in a dialogue about their preferences, and listen to the feedback that signals sentiment and purchase intent—when you optimise individual journeys at scale using first-party data and science, everyone wins."
"Brands that listen to the consumer and create a customised experience rather than blanket everyone with the same ad sequencing stand to benefit in almost every conceivable way," said Kara Manatt, MAGNA. "Customising the consumer ad journey is a key element to smart advertising, as it allows advertisers to tell a cohesive story across ad exposures, as opposed to an inefficient 'hit and miss' approach. It not only leads to greater impact on brand KPIs, it also makes for a more positive ad experience for consumers."
Source: IPG Media Lab