Mountain Dew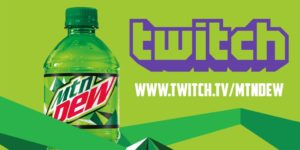 boosted awareness and engagement on video streaming platform Twitch with a chatbot aimed at gamers. The PepsiCo soft drink brand unveiled its DEWbot last year as part of a "Rig Up" promotion that awarded a $50,000 gaming Super Rig supplied by Origin PC.
The eight-week campaign featured gaming influencers and urged fans to vote on the best electronics parts to put into the supercomputer. The DEWbot saw a 550% increase in in-stream conversation, 265% gain in Mountain Dew Twitch fans and a 572% jump in channel engagement. In addition, the chatbot racked up 190,000 unique in-stream viewers and 11,600 hours of branded content watched.
The first-ever Twitch chatbot was developed by creative studio Motive.
Overall, the results exceeded the brand's expectations and highlight another step in the development of chatbots for marketing promotions. Chatbots, after initially struggling with providing compelling experiences for consumers, have seen a resurgence of late as the technology improves and brands hone in on what works for their audience. In Mountain Dew's case, focusing on a tech-savvy younger audience on Twitch as opposed to a broader audience on Facebook Messenger helped the brand's chatbot deliver meaningful value and, as a result, strong results.
Mountain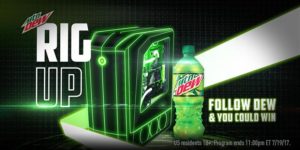 Dew, which has an estimated brand value of $2.74 billion as one of the world's most recognized soft drinks, has been very active with promotions aimed at teens and young adults who like video games and extreme sports. The brand has been an early adopter of VR, Snapchat, Instagram and other tech popular with younger consumers.
During each episode on Twitch, the DEWbot performed a variety of functions that were crucial to the campaign. It not only pushed out polls within a chat stream that highlighted the weekly components that users could vote on, but also tallied votes in real time. Additionally, the bot rewarded users who were present during the stream with instant prizes. The campaign drove consumer sentiment and return visits by randomly selecting users who registered to watch the stream.
The real-time functionality of the DEWbot let the video's on-air hosts update the community and determine a winning component for the Super Rig at the end of each episode. Each weekly vote earned users an entry into the grand prize drawing, while data were collected and recorded with the bot's back-end administration.
Source: Mobile Marketer