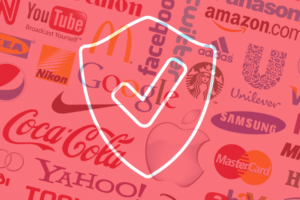 80% of people in the US would reduce or stop buying a product if advertised next to extreme or dangerous content online, according to a study from the Trustworthy Accountability Group (Tag).
Along with the Brand Safety Institute (BSI), Tag surveyed 1017 people, testing how a range of hypothetical situations involving ad misplacement would impact their purchase decisions. The study follows on from a solid two years of efforts from the ad industry to clean up the internet and the user-generated content it props up.
Following on from a series of brand safety scandals on YouTube, Facebook and Instagram which compromised the integrity of household names like AT&T, Hasbro and Disney by placing their promotions next to toxic videos, it's still an issue ad land is grappling with.
Highlighting what it described as "the real and measurable risk to a company's bottom line from a preventable brand safety crisis," Tag found that users believed running creative adjacent to hate speech was most damaging for brand reputation – with 73% in agreement.
The next strongest concern for people was pornography, which 72% of consumers said brands should take steps to prevent being associated with. This was followed by unsafe or hacked websites in terms of worst to best rankings.
Violent content was found to be another major concern for customers, with 70% saying brands should make it a priority to stop their ads from appearing next to it.
The overwhelming majority (90%) said was very or somewhat important for brands to ensure their ads weren't placed on websites or apps that hosted dangerous or inappropriate content. Just 2% believed it wasn't the responsibility of advertisers to ensure this didn't occur.
The results also showed a nuanced understanding of different brand safety issues among customers, as well as how a slip-up can impact purchase decisions.
When shown an ad next to a Neo-Nazi propaganda video (which is what household brands were appearing next to during YouTube's 2017 brand safety crisis) 87% said they would reduce spending on the product being promoted, while 58% said they'd stop buying it altogether.
Terrorist recruitment videos, which are getting increasingly hard for YouTube and Facebook to police, also drew a strong reaction from people. 90% said they would reduce spend on brands shown next to them, while 67% said they would boycott it.
Cyber safety was another sticking point for people, with 93% saying they'd limit how much they invested in brand if it advertised on a site that had infected their computer or mobile device. 73% said they'd completely cut it from their shopping basket.
When asked who should be responsible for ensuring ads do not run with dangerous, offensive, or inappropriate content, respondents assigned responsibility broadly. 70% said it fell to the advertiser, 68% said the ad agency, 61% the website owner and 46% the technology provider.
"This survey drives home the real and measurable risk to a company's bottom line from a preventable brand safety crisis," said Mike Zaneis, chief executive of Tag and co-founder of BSI. "While reputational harm can be hard to measure, consumers said that they plan to vote with their wallets if brands fail to take the necessary steps to protect their supply chain from risks such as hate speech, malware, and piracy."
Source: The Drum