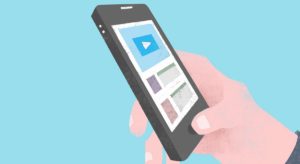 Mobile viewing is on the rise in the UK and smartphones are becoming a popular choice for video entertainment, according to new data.
Consumers in the UK are watching more digital video content than ever before with mobile viewing on the rise, according to eMarketer's latest time spent with video forecast.
The forecast, which is included in eMarketer's UK Digital Video and TV forecast report released this week, shows that adults in the UK will spend just under an hour (59 minutes) watching digital video this year, with almost two-thirds of this time spent on mobile.
Mobile video time in the UK is expected to grow by more than 16% this year, as smartphones get bigger and more affordable, and mobile-only platforms such as Snapchat and Instagram grow their user bases. By the end of next year, eMarketer expects UK adults will spend almost 32 minutes watching video on a smartphone.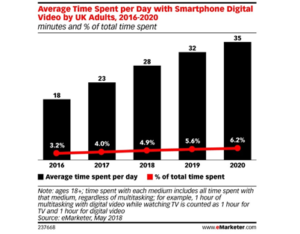 "Consumers in the UK are watching more digital video content, and more of it on smartphones, than ever before," said eMarketer's UK senior analyst Bill Fisher. "What they're watching is changing slightly, though, with the influence of quality TV programming being keenly felt. We all know about the impact that subscription video-on-demand platforms like Netflix and Amazon Prime have had on consumer behaviour. But even on platforms more associated with user-generated content (a la YouTube), there's an increasing tilt toward longer-form viewing, often via channels on the platform with high production values. Marketers are watching this trend with interest, particularly given the ongoing saga that YouTube's been having with brand safety."
This forecast is included in eMarketer's just-released UK Digital Video and TV 2018 report.
Source: eMarketer