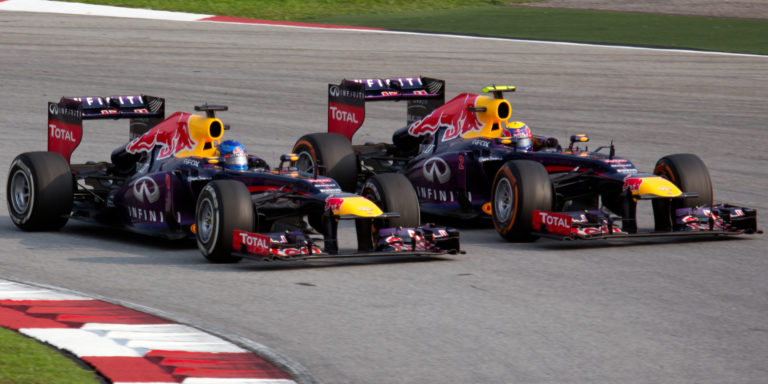 PwC and IAB UK released the latest digital ad spend study, with the long-awaited news that mobile ad spend (£802m) has taken over desktop spend (£762m) for the first time.
In fact, it is mobile that has driven the growth in overall digital ad spend, which has seen a 16.4% rise – the highest first-half growth rate for two years. Mobile itself saw a 56.1% increase in the first half of 2016, meaning £0.36 of every £1 spent on digital advertising is now mobile – just five years' ago, only £0.04 of every £1 went into mobile advertising.
Speaking of the news, Tim Elkington, CSO, IAB UK said: "People now spend more time online on their mobile than they do on a computer. Consequently, marketers devote more ad spend to mobile as they increasingly cotton on to the fact that people essentially carry an ad platform with them wherever they are."
But, it isn't all about mobile. Video ad spend hit £474m during the same period, representing a 67% growth. The mobile portion of that grew 129%. Video now accounts for 30% of all display advertising, yet 37% of mobile display.
Forty-eight percent of display spend now goes into social, with it seeing an increase of 43% to £745m, 80% of which is funnelled into mobile.
While there was healthy growth across the board, with all digital ad formats seeing mobile as the key factor in their overall growth, display and search experienced the weakest year-on-year growth, only seeing a 21% and 18% increase in all digital spend, respectively.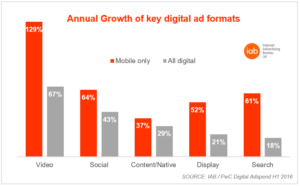 ExchangeWire asked experts from across the industry their opinions on the all-round positive news:
Viewability must be addressed to allow video to thrive
"Today is the seismic shift we've been waiting for: mobile display has overtaken desktop and tablet ad spend. The results also clearly reveal that, while video ad spend increased significantly, outstream video advertising has broken into the mainstream. It's clear video advertising is still the format that captures the hearts and minds of consumers. Outstream video advertising goes even further by delivering the medium in an unintrusive way, offering fully skippable ads that give the user the power of choice. There's no sign of this outstream growth slowing, with innovations such as vertical and 360-degree video explicitly designed with mobile devices in mind, which smart marketers will reap the benefits of. However, the industry still desperately needs to address the issue of viewability for the boom in video to avoid a bust. It's simply outrageous that brands are paying for advertising that is not seen, or only seen fleetingly. We predict marketers will demand even more comprehensive measurements in 2017, that show real return on investment, without compromising the user experience." 
Justin Taylor, UK Managing Director, Teads 
Advertisers have finally caught up with consumers
"We passed the mobile tipping point as far as consumer engagement goes some time ago, so it was really only a matter of time before advertising budgets caught up. As this trend continues, the focus will be on mobile attribution and identifying its role in the conversion journey. Some marketers are still using rudimentary techniques and methodologies to do this that are better suited to desktop. But, as investment in mobile as a channel increases, there will be greater demand for greater accountability and efficiency – and the onus will be on agencies to deliver against this. Alongside the growth in mobile, we're also seeing paid search making up over half of digital spend, showing that search still sits at the core of online consumer behaviour. Developments in the search space, such as the use of voice technology, will only serve to increase its usage, particularly on mobile. This represents a huge opportunity for brands to capitalise on mobile search, in particular, as a discovery tool that is always at consumers' fingertips."
Niel Bornman, Global Chief Product Officer, iProspect
Understanding mobile's role in the path to purchase is vital
"Seeing mobile spend overtaking desktop is fantastic news, it reflects how serious the ad industry is taking mobile. With paid search growing by 18.1%, and carving out a 52% share of digital ad spend, a possible reason for this is the proliferation of mobile devices. The results reflect the important role that mobile plays as a place for brand discovery and conversion. UK adults are spending 46% of their internet time on a mobile, meaning that there is a world of opportunity out there for brands to target consumers in this way. Whether the eventual purchase is made online, on the phone, or in store, getting to grips with mobile's role in the customer journey is vital. Understanding this behaviour, and optimising it to deliver successful brand campaigns, is key."
Anna Forbes, UK Managing Director, Marchex
Mobile-first companies must work to maintain growth
"In the first IAB results since the Brexit vote, it is promising to see that growth continuing. The growth of mobile is something that we have seen echoed in the companies that we are working with on the financial side, with more and more mobile-first ad networks and ad tech companies entering the UK market. These fast-growing mobile companies should not ignore marketers' ever-present concerns about the industry's financial prospects and focus on finding ways to maintain growth and prosperity in Q4, and into 2017, to weather the forecasted 0.7% drop in ad spend in these uncertain times."
Matt Byrne, UK Director, FastPay
Mobile increasingly seen as a branding tool
"Mobile overtaking desktop is a sign that marketers are truly realising the potential of it as an advertising channel. It's by far the most personal and the most frequently used by consumers – smartphones can be touched up to 2,500 times a day, a level of engagement that is unheard of elsewhere. Part of this increased investment is a response to consumer eyeballs moving in that direction; but it's also an indication of branding budgets moving there, too. Unlike desktop, mobile is increasingly being viewed as a branding tool, owing to its highly personalised, always-on nature. This would explain why mobile video is seeing such strong growth, too, with brands and agencies making use of the premium ad formats available. As the quality of mobile advertising continues to increase, and the measurement and accountability surrounding it continues to improve as well, we expect this trend to continue."
Paul Carolan, Global Chief Commercial Officer, Widespace
User experience must be front & centre
"It came as no surprise that mobile ad spend would eventually overtake desktop. The IAB report shows that, with the rise of mobile and native programmatic, there is a clear need to keep user experience top-of-mind. While being able to buy native programmatically is an exciting development, the industry needs to ensure that we don't lose what makes native special, and valuable, in the rush to trade it efficiently at scale like any other standardised display format. Branded content (true, integrated native) is by its nature analogue, while programmatic by definition requires the digitising of information to make it work. This is fine for 'regular' in-feed native display formats; but we should be careful of extending this too far into the premium space – for the benefit of all parties, including the reader. Nor should we forget that native sits precariously on the border between editorial and commercial and, thus, needs to consider issues of transparency, trust, and not misleading the reader. It could be argued that this is a slightly counter-intuitive position for a programmatic specialist to take, but at MainAd we try to cut through the noise of the latest trend to find the real value, and we all have a stake in the sustainability of the ad-funded publisher model."
Matt Keating, Head of Sales, MainAd
Source: ExchangeWire