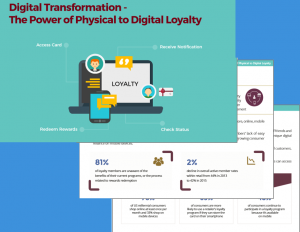 Digital transformation — the switch from paper and plastic to instant smartphone access — presents major opportunities for retailers to increase profits via savvy execution of customer loyalty programs.
That's the key takeaway from expert analysts in a new eBook sponsored by CodeBroker, a developer of mobile marketing technologies for retailers.
Available now as a free download and authored by EKN, a retail advisory and research firm, "Digital Transformation: The Power of Physical to Digital Loyalty," offers what those behind the offering call "compelling evidence why retailers need to incorporate mobile and digital access to their current reward program strategies."
"Considering the astronomically high customer experience bar set by the likes of Amazon, Apple and Uber, retail loyalty programs need a serious overhaul," writes the report's lead author, Sahir Anand, principal analyst with EKN. "The next stage of evolution in retail loyalty — Omnichannel Loyalty — is the powerful confluence of the physical and digital loyalty worlds to address the challenges faced by consumers and retailers."
According to EKN research, a vast majority (69%) of consumers are more likely to use a retailer's loyalty program if they can access the card on their smartphone or other personal device. Also, as many as 70% of U.S. millennial consumers shop online at least once per month and 33% do it on their mobile devices, highlighting the importance of digitizing loyalty programs and coupons.
The report lays out the apparent limitations of using traditional card-based loyalty programs, citing these as being too complicated and not nearly user-friendly enough. In fact, more than 50% of all customer loyalty cards are inactive.
Source: Mobile Marketing Watch