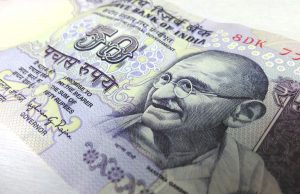 Mobile ad spend in India is set to grow 85 per cent year-on-year, according to eMarketer forecasts – but it remains far outweighed by more traditional ad channels.
Mobile is predicted to hit $460.1m (£375m) in 2017,  5.8 per cent of the country's total ad spend and 38 per cent of digital overall,  set to pull in $1.21bn.
Those figures are dwarfed by traditional media. 39.3 per cent of ad spend is expected to go on television (some $3.1bn). Print isn't far behind, at 35.7 per cent ($2.8bn), with the majority going to be on newspapers, which eMarketer notes remain popular and profitable in India.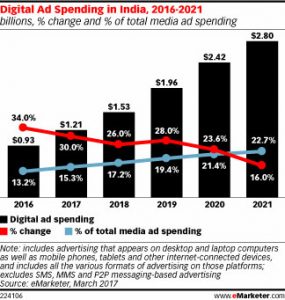 "Traditional media outlets, especially print and TV, remain the mainstay of media advertising due to its outsized influence on the lives of many in India," said Shelleen Shum, senior forecasting analyst at eMarketer. "Local content coverage in various languages and the widespread accessibility to print and TV signals explain their ability to hold on to large audiences. This is a stark contrast to many other countries where both industries are facing declines in advertising revenue as audiences migrate to digital."
According to the forecasts, that balance will start to shift over the next few years. Between 2017-2021, digital ad spend is set to grow at  a CAGR of 23.3 per cent, driven primarily by mobile. By the end of that period, $2.8bn will be spent on digital channels, 22.7 per cent of the country's total ad spend.
Source: Mobile Marketing Magazine