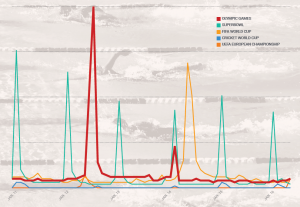 65 per cent of all views on Olympic-related YouTube video over the past 12 months came from mobile – a figure that jumps to 75 per cent in the UK, and 87 per cent in Saudi Arabia.
That's according to figures released by YouTube ahead of the 2016 Rio Games, kicking off on August 5, which also reveal that, at peak, the Olympics actually outperform all other sporting events in terms of search.
Of course, that spike in interest has huge benefits for sponsoring brands. Videos from Olympic sponsors have already accumulated more than 400 years' worth of views between April and June.
The single most popular so far is Always' '#LikeAGirl – Keep Playing', part of the feminine hygiene brand's campaign to encourage more girls to take part in sports.
Created by agency Leo Burnett, the video has racked up 20.8m views since it was first posted in late June.
Source: Mobile Marketing Magazine