Overall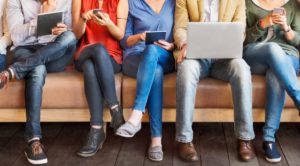 consumption of media plateaued in the UK, according to eMarketer's latest forecast.
eMarketer expects UK adults to spend an average of 9 hours, 23 minutes each day watching, streaming, reading and listening to media this year.
The most notable aspect of this figure is that it represents the first year of flat growth since eMarketer started tracking time spent with media in the UK.
Since that time, adults have been adding incrementally to their media time. This latest forecast indicates that media consumption has reached a saturation point.
What has changed over the years—and will continue to change—is the media mix, with digital, and in particular mobile, driving new habits and overall media consumption.
eMarketer forecasts that in 2018: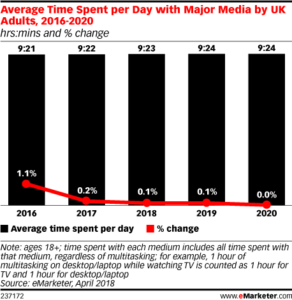 • Adults in the UK will spend half of their media time with digital.
• Mobile will account for more than 32% of media time in the UK—overtaking TV for the first time.
"The way that people consume media will continue to change," said eMarketer's UK analyst, Bill Fisher. "Many traditional habits are simply transitioning over to digital devices and platforms, while digital-only habits continue to proliferate. However, what's apparent from this forecast is that UK adults have reached a plateau. While the media mix may ebb and flow, and it will increasingly flow toward mobile, adults' media consumption capacity has reached its peak."
Source: eMarketer