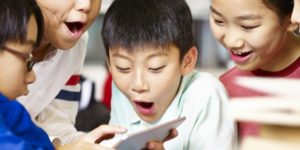 90% of children between the ages of 4 and 12 in Asia Pacific have claimed they are using platforms such as YouTube, Facebook and Instagram.
The findings, from a survey by digital media company TotallyAwesome, reveal the social media habits of children in the APAC region as well as highlighting the safety concerns held by their parents.
The survey revealed 98% of parents in APAC are concerned about their kids' activities online, with parents in Malaysia, Indonesia, Thailand, and Vietnam the most worried.
68% of parents were also afraid that their kids might come across inappropriate content, while 56% were worried about the potentially negative influence online. Over 47% fear cyber bullying and over 34% were concerned about their kids' general well-being.
According to TotallyAwesome, the survey also threw up some concerning statistics, with 68% of these parents claiming that their kids had already experienced real issues online, 33% stating that their kids had already been exposed to inappropriate content and 24% had fallen victim to bad influence.
"We had expected to see concerns amongst parents regarding their kids' digital safety – this is a global trend," said Quan Nguyen, TotallyAwesome's chief executive officer. "However, the results were much higher than we initially anticipated. It is important for us to seek feedback from both parents and children to make sure that our solutions, such as PopJam, our kid-safe content platform, remain relevant and help kids to stay safe in the digital space."
The Kids' Digital Insights Study was conducted across 14 markets – including Australia, China, India, Indonesia, Japan, Malaysia, Singapore, Thailand – with a sample of over 4900 kids (aged 4 to 16) and families.
In June, TotallyAwesome introduced a kid-safe video on demand platform in APAC to cope with the increasing demand for kids-safe online video content.
Source: The Drum