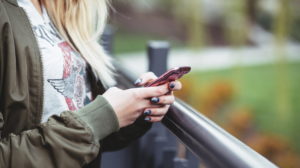 Young people are beginning to recognise the negative impact social media has on their lives, with many aware they spend too much time using the platforms and some already having deleted the apps from their devices, according to research from MediaCom.
The survey of 1,200 eight to 19-year-olds in the UK found that 48 per cent of young people feel they are spending too much time on social media, while 52 per cent feel the need to constantly check for updates. This growing awareness is further highlighted by 18 per cent having deleted social media apps from their devices, 17 per cent having self-limited their screen time, and 13 per cent having cut down their use of social media apps and sites.
The research also found that 32 per cent of young people worry about the number of likes they receive on their social media post – something Facebook is trying to address by trialling the removal of likes on both its main platform and on Instagram. Meanwhile, 40 per cent of young people compare themselves to others on social media and 36 per cent are worried about receiving hurtful online comments.
Though aware of the negatives associated with social media and making an effort to protect themselves, 59 per cent use social media to cope with FOMO (fear of missing out), and 47 per cent are on social media to feel included.
"The relationship that young people have with social media is complex. They love the fact that it can help connect them with their friends and family, but the pressure they feel to portray a certain lifestyle or online persona is enormous; it means they are more anxious about their online activity and more likely to look for ways to limit their social media use," said Pauline Robson, managing partner at MediaCom UK.
"According to the NHS, mental health issues are rising among children and teens, and the evidence increasingly suggests that social media plays a role in this. Many teens may well be using social platforms like Facebook, Twitter, Instagram, Snapchat and YouTube in positive ways, but we can't ignore the damage that can be done online."
"Creating a healthy, vibrant social media environment for teens is crucial, and this responsibility lies at the feet of not only the social media companies themselves but any company who is engaging with young people through social channels. Failure to do this will only see more children switch off from social media and inevitably remove the platforms that they feel are not adding to their online experience," concluded Pauline.
Source: Mobile Marketing Magazine