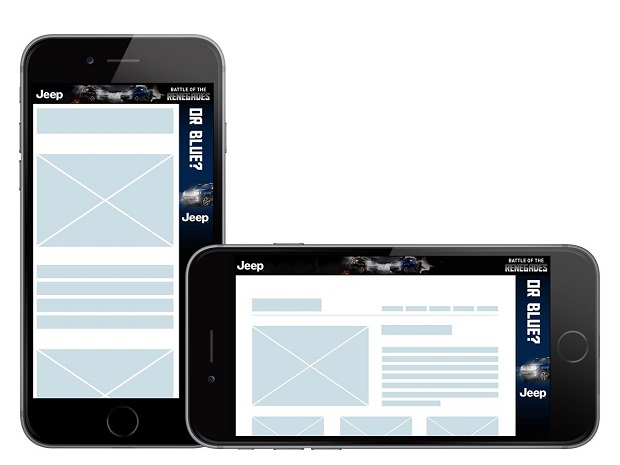 Car maker Jeep has become the first brand is the first to use 'Edge' – a new ad format designed to to overcome ad blocking and increase viewability metrics.
The format, developed by InSkin Media, runs along the edge of a mobile screen in a bid to be non-intrusive.
It wraps around the top and right-hand sides of webpage content – as the viewer scrolls through the content, the right-hand side element, with branding and calls to action, scrolls the page as well, and remains in view.
When a reader deliberately clicks on the ad, it takes them to a new webpage, app or microsite. Once they have finished, they can close that window and return to the original point on the page where they clicked on the ad, to continue reading: a positive user experience.
The Jeep campaign resulted in 95% viewability and 43 second average viewing time.
"The campaign achieved an average in-view time of 43 seconds per impression, with over 30% of all impressions in view for over a minute," said Nicky Traynor, Account Manager, Maxus. "Verified stats on active in-view times are a key additional reporting metric for us to prove the value of investing in high-impact formats, which focus on brand dwell time and quality engagement on smartphone devices, traditionally known for delivering high clicks and low dwell times."
Hannah Buitekant, General Manager, Programmatic at MailOnline added, "PageSkin Edge is a non-intrusive format running on large screen mobile devices. Although the ad remains in view at all times, it never obscures the content, meaning it does not interrupt our readers' content consumption. That's incredibly important to us. Crucially, users need to click on the ad for a certain amount of time before they trigger an action, which avoids unintentional clicks."
"The industry has not cracked how to advertise on smartphones effectively – they account for 45% of internet time, but only 27% of ad spend," said Tom Knapp, InSkin Media's COO.
"Simply re-purposing desktop formats has not worked for either publisher revenue or for consumer experience. This format addresses both issues; it delivers high dwell times and interaction rates for advertisers, which increase publisher revenue while reflecting the IAB's L.E.A.N principles, in being lightweight and 'polite', giving less reason to block ads."
The initial campaign for Jeep delivered a viewability rate of 95%, with an average in-view time of 43 seconds per impression. 30% of all impressions were above 1 minute. All PageSkin campaigns include full viewability reporting, by InSkin's partner, Moat. The campaign delivered a 2% click-through-rate (industry average is approximately 0.4%).
Source: Net Imperative