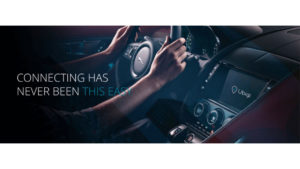 Jaguar Land Rover (JLR) has begun offering mobile data services in its latest vehicle models in Spain, Portugal, Belgium, the Netherlands, Luxembourg, and France.
In order to offer the services, the car manufacturer has teamed up with Ubigi, Transatel's mobile data service provider, to provide Ubigi SIM cards to the owners of the latest vehicle models. These SIM cards will enable on-board wi-fi and infotainment services.
JLR is offering customers a three-year prefunded data bundle with its vehicles, which includes the option for the customer to purchase additional data top-up packages if the desired.
"Following our successful launch in the UK, Germany, and Italy, we feel proud that the Jaguar Land Rover Group requested us to extend the services to six new countries," said Jacques Bonifay, Transatel CEO. "We're looking forward to deploying the Ubigi experience with Jaguar and Land Rover in even more countries in the future."
Last year, JLR teamed up with Transatel, which was recently acquired by NTT Communications, to bring mobile data services to the UK, Germany, and Italy.
Source: Mobile Marketing Magazine