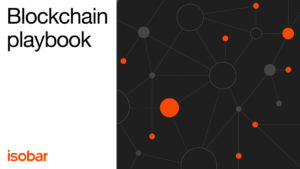 Isobar, a global digital marketing agency, has published a playbook to explain what blockchain is, the technology in practice and how it can be integrated into businesses today, including high growth markets Brazil, India and China.
The playbook unpacks blockchain's potential impact on the global media and marketing industry including supply chains, transparency, brand management and creativity, as well as explaining what marketers should do next.
Vikalp Tandon, Global Chief Technology Officer, Isobar, said, "Digital has changed the way we live and work forever. If the past is evidence, whenever a near monopoly emerges, a new technology also emerges that disrupts the industry. Blockchain could be that opportunity."
Blockchain has launched a decentralised technology revolution, with Gartner forecasting "the business value-add of blockchain will grow to slightly more than $176 billion by 2025, and then it will exceed $3.1 trillion by 2030." Isobar believes the potential of the technology has far reaching implications for the media and marketing industry, in areas such as supply chain, commerce, transparency and identity management.
Dave Meeker, Chief Innovation Officer, Isobar US, said: "Our innovation teams are already consulting with clients on Blockchain technology, and its potential for providing experience-led transformation solutions, and we have written this global playbook to kickstart more conversations."
The playbook was authored by Robert Tilt, Director of Nowlab at Isobar Australia, with contributions from Vikalp Tandon, Isobar Global Chief Technology Officer, Shawn Mishra, SVP, Isobar Global Managing Partner, Isobar Commerce Practice, and Simon Gill, Isobar EMEA Chief Experience Officer.
Robert Tilt, Director of Isobar Nowlab, Isobar Australia, said: "At its core, blockchain is a technical solution to two key promises that have forever plagued the business world: transparency and trust. When applied to the right scenarios, it can transform how our industry operates, creating massive efficiencies, and ultimately freeing up resources for more innovation."
It also features contributions from Dentsu Aegis Network, and covers:
The history of the ledger & a simple definition of blockchain, and a glossary of terms
In practice: cryptocurrency and Initial Coin Offerings (ICO); financial services, supply chain & proof of origin; data insights & authenticity
Deep dive into high growth markets: India, China & Brazil
Blockchain in media & marketing, and as a creative medium, and implications for supply chain
Commerce & payment on the blockchain
What is holding blockchain back?
What should marketers do next?
To download the playbook, and to learn how Isobar is helping clients grow their businesses, visit here.
Source: Isobar