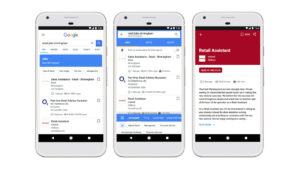 Google has launched a job searching service in the UK, following its rollout in the US, offering users local results if they're looking for a new role.
A number of large job listing sites have signed up as partners for the launch, including Reed, Haymarket, CV-Library, and Gumtree, and roles advertised on these sites will be aggregated into Google's search results.
The idea is to give job seekers an easy way to see which jobs are available without having to go to multiple sites only to find duplicate postings and lots of irrelevant jobs. Google uses AI technology to filter relevant listings.
Like the US version, all users need to do is type "jobs near me" in the search engine, and a list of positions will appear, with salaries included. Google subscribers can also calculate travel distance via Google Maps.
People applying to the jobs will need to click through to the jobs listing sites themselves before being able to send off their application, providing those sites with continued revenue.
Joy Xi, product manager at Google, said: "Starting today, when you search for 'jobs near me,' 'teaching jobs,' or similar queries in English in the UK, you'll have the option to click through to a feature that lets you explore jobs from across the web that meet your unique needs. You can access salary information, reviews and ratings of the employer and different options to apply for a job, or use a location filter to see jobs in the areas that are convenient for you. Thanks to Google Maps, if you're signed in, you'll even be able to see how long it would take to commute to a job from your home."
Source: Net Imperative