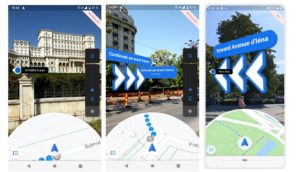 Google has launched a beta feature in Maps that enables users to get walking directions via augmented reality (AR). The 'Live View' feature displays arrows and directions in the 'real world' through the user's camera.
The search giant has been testing the feature with its Local Guides and the Pixel community over the past few months. It is now expanding the beta to Android and iOS devices that support ARCore and ARKit respectively.
Google Maps is also getting a few other upgrades. The first brings flights and hotels reservations into Maps, putting everything needed for travelling in one place. Users can tap on the three grey lines at the top left corner of the screen and then tap on 'Your Places' before heading to the 'Reservations' tab. This will pull up a list of all upcoming trips and selecting a trip will bring up all the necessary details for that.
Looking for places to eat in Maps has also been improved with the addition of taste matching with 'Your Match', the ability to see how long the wait is, and booking a reservation without leaving the app.
For those with Location History turned on, there is an updated timeline with all the places visited in a country or a city. Within this, people are able to search by restaurants, shops, attractions, hotels, and airports. These places can be selected and shared in lists.
Flight and hotel reservations, Live View, and the new timeline will arrive in the 'coming weeks'. The timeline is only available on Android.
Elsewhere, Google has also made changes to its 'Flights' tab, providing more insights, offering recommendations to help out with planning, and displaying the best neighbourhoods to stay.
Source: Mobile Marketing Magazine