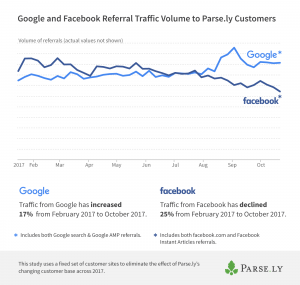 Google has surpassed Facebook as the primary source of referral traffic for web publishers in a reversal of fortunes for the tech titans since the beginning of the year.
Data provided by digital analytics specialists Parse.ly highlights the diverging fortunes of both tech giants with Facebook's share of external traffic referral slumping from 40 to 26%, coinciding with a jump in Google's traffic generation from 34 to 44%.
The data was accrued from around 2,500 individual publishers including giants such as Time, Huffington Post and the Wall Street Journal.
Explanations for the differing fortunes are many and varied but the decline of 'Instant Articles', in which Facebook hosts publishers content directly. Other factors at play include a general migration toward video which may have an effect on the volume of links publishers add to their Facebook pages.
On the other side of the tech divide Google's accelerated mobile pages feature is credited with driving clicks from compatible stories by pushing articles to the top of mobile search results.
Source: The Drum