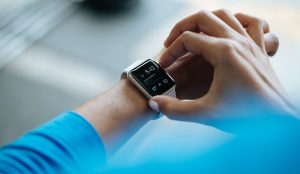 Wearable sales are set to hit 310.4m in 2017, accounting for $30.5bn in revenue, up 16.7 per cent from 2016 – according to tech research and advisory company Gartner.
Of the over 310m sales, 41.5m are forecasted to be smartwatches, drawing in $9.3bn in revenue.  Gartner expects smartwatch sales to total nearly 81m units by 2021, representing 16 per cent of total wearable device sales.
"Smartwatches are on pace to achieve the greatest revenue potential among all wearables through 2021, reaching $17.4bn," said Angela McIntyre, research director at Gartner.
Apple will continue to have the largest smartwatch market share. However, its stranglehold is expected to loosen as its market share falls from around 33 per cent in 2016 to approximately 25 per cent in 2021. Earlier this month, it was reported that Apple's next Watch will come with a built-in data connection, meaning it can be used separately from an iPhone. The next generation of the Apple Watch is expected to be unveiled before the close of the year and significantly increase the tech giant's wearable sales for 2017.
Though Apple dominates the smartwatch market individually, Gartner expects kids' smartwatches and traditional watch brands to perform well. The tech research company predicts that kids' smartwatches will represent of 30 per cent of total smartwatch shipments by 2021, while fashion and traditional watch brands will account for 25 per cent of sales.
Shifting away from smartwatches, 150m Bluetooth headsets will be sold in 2017, also up 16.7 per cent from 2016. This represents 48 per cent of all wearable devices for the year. Sales of Bluetooth headsets are expected to rise to 206m in 2021, as major smartphone makers gradually phase out headphone jacks.
"By 2021, we assume that almost all premium mobile phones will no longer have the 3.5 mm jack," said McIntyre.
On the other end of the spectrum, head-mounted displays – e.g. VR headsets – will only account for seven per cent of devices shipped in 2017, and will not reach mainstream adoption with consumers or industrial customers by 2021.
"Current low adoption by mainstream consumers shows that the market is still in its infancy, not that it lacks longer-term potential," said McIntyre.
Source: Mobile Marketing Magazine