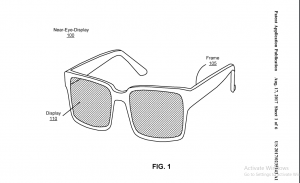 Facebook is expected to expand its inventory by designing an augmented reality (AR) glasses that could display digital objects in the physical world, according to a patent application filed by Oculus.
'A waveguide display used as part of the virtual reality (VR) system, AR system, mixed reality (MR) system or some combination therefore' is how the glass is summaries in the patent.
Facebook already used 2017's F8 keynote address to showcase its augmented reality (AR) initiative, lauded as "the first mainstream augmented reality platform" that will employ artificial intelligence (AI) and VR to help developers build games and apps based on its technology, amid a host of other announcements.
During the F8 conference, Mark Zuckerberg, founder and CEO Facebook said, "Virtual reality has the potential to be the most social platform, because you actually feel like you're right there with another person referencing an Oculus Rift 'toybox' demo which allows two people to compete in VR."
The wave guide display with two dimensional scanner glasses as mentioned in the patent application do strike some resemblance with Google glass.
This innovation would also be yet another example of Facebook closely innovating similarly to that of Snap which in 2016, launched Snap Glasses that are also set to introduce AR capabilities too.
Source: The Drum