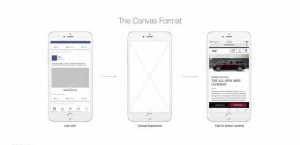 Facebook has launched its Canvas ads worldwide, allowing advertisers to effectively take over a mobile device's screen with immersive creative that loads almost instantaneously when someone taps on the news feed.
The ad format supports a mix of features including slideshows, descriptions, videos and a scrollable, interactive interface, that effectively create a mini website designed around a specific product.
Canvas was designed in collaboration with the creative community to offer a richer more ownable space removed from the constraints of traditional ad formats by adding more variables to play with, like swipe-through action. These features promise a more interactive experience for the user, and ultimately more engaging ads.
Facebook said developing a better user experience was its first priority, with fast-loading playing a huge part in this, since almost 50 per cent of responsive mobile sites take over five seconds to load. It aims for Canvas ads to load in under one second.
Rob Newlan, regional director EMEA of Facebook Creative Shop, said "As an industry we have awarded and rewarded novelty – that is what the industry was built on. But there is a need for craft and creative ideas that are indulgent deep experiences."
While the ad is being viewed in full-screen mode, there's always an option to click away, ensuring the user is always in control.
"At Facebook we are raising the bar for what advertisers and people expect to see for mobile ads. The bar for content in newsfeed is very high so we are striving for ads to show this as well. We want Canvas to offer something that deserves to live in your newsfeed," Jessica Watson, product design manager.
Ads are created using Canvas Builder, a basic tool that can be used by creatives with coding expertise, it also doesn't need new software and offers previews in real time.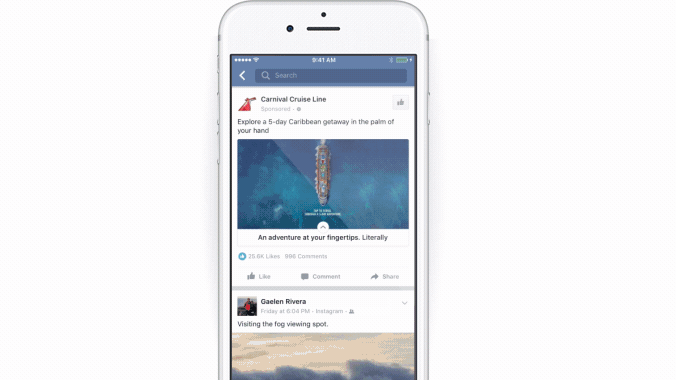 Canvas builder is free, and is a self-service platform that is open to everyone.
However, since it is a self-service platform that is open to all, this raises the question, how are Facebook going to ensure brand safety, and what vetting process do they have in place to make sure legitimate ads of high quality run?
Paresh Rajwat, product management – News Feed Monetiation, responded: "The same rules will apply as they always have done in Facebook, no specific process will apply for this platform."
Over 20 brands trialled Canvas in beta stage, including Citroen, Burberry and Allegro. Statistics so far claim 53 per cent of users view more than half of an average Canvas, with average time spent 31 seconds in the Canvas.
Canvas is not dissimilar to Snapchat's ad offering, which has been mobile-first since its inception and is defined by its vertical scroll elements. Did Facebook benchmark from other platforms when creating Canvas?
Newlan said, "We were looking for a product that could make sure we had the most exciting range for advertisers. The industry wanted full screen experience and vertical scroll, and we responded to this. Canvas has vertical and horizontal interactivity, expanding to full screen. I'm sure the team kept an eye on what other platforms were offering advertisers, but the horizontal format is something other platforms don't use, so this is a unique offering that combines the two."
In terms of syndicating this offering with Instagram and audience network, the platform says they are "working on it".
Source: The Drum