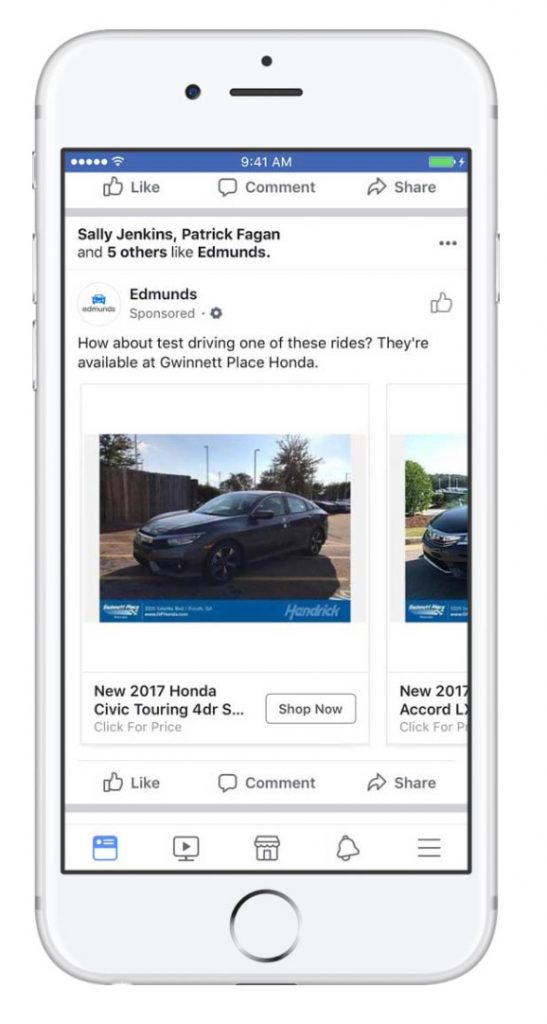 Facebook is gearing up to grab automotive advertising budget with dynamic and lead ads for auto brands, both released on November 16.
Dynamic ads for auto, like Facebook's other dynamic ad products for ecommerce and travel, allow advertisers –auto manufacturers and car dealerships, in this case – to retarget auto intenders and create lookalike audiences for targeting.
The ads, which were developed over the past several months, are available through Facebook and Instagram with plans to bring them to Audience Network in the near term, although there's no set timeline.
It works like this: Brands upload their vehicle catalog, including details for make, model and year, and the ad creative is automatically generated and targeted based on user intent and a mix of psychographic and demographic data that Facebook pulls from its pixel on an advertiser's website.
After the click, the ads redirect to vehicle info pages or mobile lead ads, which advertisers can use to collect user data and consumers can use to request more information or to take an action, like locating the nearest dealership or scheduling a test drive.
The lead ads are integrated with Canvas, Facebook's full-screen mobile ad unit, and pre-populated with the user's contact information, including email address.
For the moment, advertisers can set KPIs based on cost per lead or click-throughs on the dynamic unit. What they can't do, however, at least not yet, is tie dynamic ads or lead ads to dealership visits. That's on the agenda.
Today, some auto advertisers use Facebook's store visits tool, which tracks offline purchases, to get a sense of how many people visit a dealership after seeing an ad. But the store visits objective isn't directly integrated with dynamic ads, which means advertisers can't actually close the loop on a specific car purchase.
Facebook's road map includes full attribution for auto dynamic ads.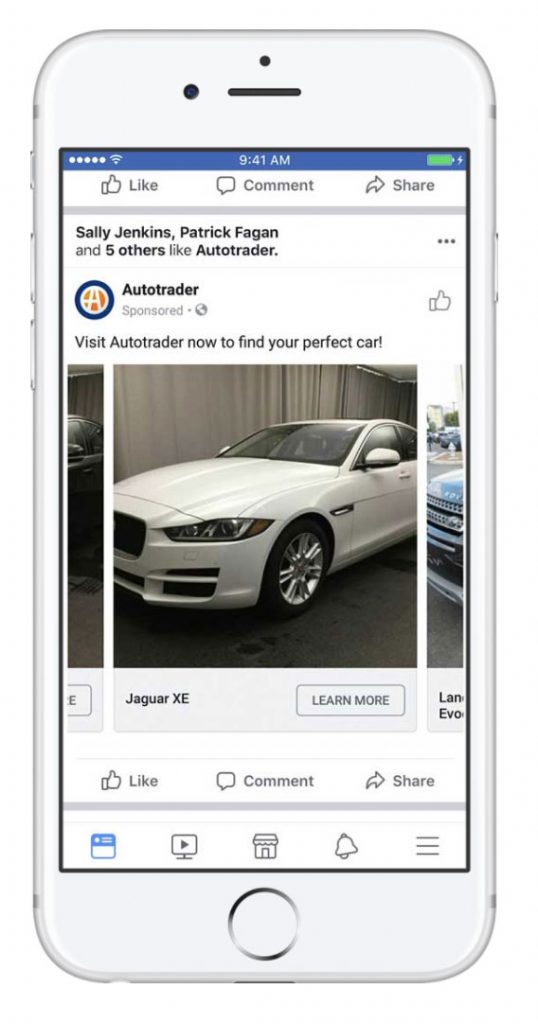 But even without closed-loop attribution, auto brands still need to insert themselves into the research process as early as possible.
Because consumers only buy a new vehicle every seven years or so, it's important for advertisers to clearly understand the car buyer's journey, which increasingly takes place on a mobile device.
Mobile is starting to "replace the showroom," said Stephanie Latham, Facebook's auto industry lead. It's where product research increasingly occurs, and auto brands need to be there, she said.
"The average car shopper today visits two dealerships per car sold and, in some cases, they visit zero dealerships," Latham said. "And when they do show up at a dealership, they're already well-prepared because they've done the research online."
In fact, 56% of auto intenders conduct research on a mobile device, according to Cox Automotive – and one in every five minutes spent on a mobile phone in the US is spent on either Facebook or Instagram.
These interactions give automotive companies another chance to be part of the car buyer's consideration, Latham said.
"It's essential for manufacturers and dealers to make sure that they're discoverable, even if the customer is not searching," she said. "The biggest takeaway is that they need to reach the customer early in the process with more relevant and personalised content. If they do that, they can have influence before the customer makes their decision."
Source: Ad Exchanger