It
can be a pain to sell your gear on eBay for many reasons, not the least of which is packaging. How do you know a box will be large enough without having it on hand? eBay can help: it just launched a previously teased, ARCore-based augmented reality feature for Android that helps you choose a shipping box for US deliveries.
Point your phone at your item and you can overlay USPS box sizes to determine which one will fit your outgoing goods. This could save you time testing boxes, and might save you some cash if you can get away with buying a smaller box (or better yet, using one you already have).
The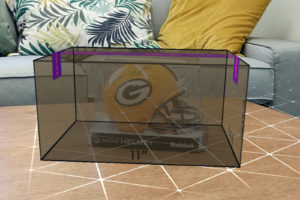 company says that there is a plan to eventually bring the box preview feature to iOS, although that will clearly involve changing augmented reality platforms (Apple's ARKit seems like the logical candidate).
Other mail carriers and countries are also on deck, although there's no timetable for any of these expansions. Nonetheless, this is a good example of how AR can be a practical tool.
You may only ever use this feature once in a blue moon, but it could be incredibly valuable when you do use it.
Source: Engadget