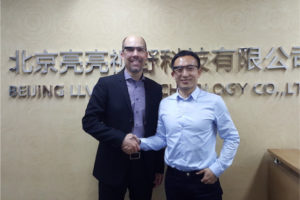 Nasdaq First North-listed Crunchfish extends the cooperation with LLVision, one of the leading AR-companies in China. LLVision will offer Crunchfish's software for touchless gesture interaction as default in their new AR-platform.
The first two customers to commercially deploy the platform are Digital China, the largest integrated IT service provider in China, and Siveco China, developer of smart technologies for the operation and maintenance of infrastructures and industrial plants.
The extension to the main agreement signed in 2017, gives LLVision the right to pre-install the gesture software in the AR-platform ARISE, making gesture control an integrated part of the LLVision AR-offering. By becoming a standard feature in the platform, Crunchfish further extends the market reach.
The agreement with LLVision has a royalty business model based on the number of AR-glasses sold by LLVision. At this point LLVision has not provided any volume predictions of the two orders. LLVision expects the first commercial delivery of the joint solution to go live in Q1 2019.
"After extensive field tests we are convinced that touchless gesture control is a necessity for an efficient operation. We are excited to continue and to deepen our cooperation with Crunchfish to ensure user-friendly interaction with the highest reliability." says Wu Fei, CEO of LLVision.
"Our extended collaboration with LLVision is very exciting and includes customer projects as well as pre-integration of our software in LLVision's new AR platform. LLVision is an important partner for us and with commercial projects with crucial applications including touchless gesture control, we get confirmation both of the market's maturity and the strength of our product." says Joakim Nydemark, CEO of Crunchfish.
LLVision is a pioneer within AR, targeting industries such as logistics, automotive, medical, security and education. On their client list is customers like ABB, Siemens, DHL, Schneider Electrics and Tencent. LLVision's solutions are used for different purposes eg. by the Chinese police force for people identification and by surgeons at Beijing Hospital to broadcast operations. Also, technicians at Johnson Control and a Tier 1 telecom infrastructure company in China use AR-glasses from LLVision for maintenance service.
Digital China was created from Legend Holdings which became Lenovo in 2001. Digital China is focused on providing electronic business platforms, solutions and services. A one-stop IT services concept allows it to span across a range of different industries, from banking and telecommunications to government and public sectors. Leveraging on its partnership with over 100 top IT vendors worldwide, Digital China has become the largest integrated IT service provider in China.
Siveco China, founded in 2004, is a pioneer in the development of Smart Technologies for the operation and maintenance of infrastructures and industrial plants. The company has over 850 customer sites all over Greater China and on the client-list are companies like ABB, Baosteel Metal, Carrefour China, General Electric, Shell, CEPSA and Suez Environnement. The company also has presence in Southeast Asia, the Middle-East and Africa.
Source: Crunchfish