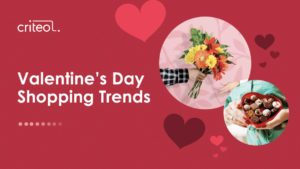 Valentine's Day is on our doorstep and lovers may think they have left it too late to go out and buy gifts, but research from Criteo, the open platform for the internet reveals 51% of all transactions made on February 14th are via mobile devices.
And with mobile shopping forecast to increase to £25 billion in 2019 it's no surprise. Criteo's research reveals what gifts consumers are most likely to be buying today and tomorrow.
Most popular last-minute gifts:
A whopping 7x more flowers than usual were sold online on Monday, Feb 12, 2018 — just two days before Valentine's Day.
One year ago, the spike occurred just one day before, suggesting that Valentine's Day was better anticipated in 2018.
4x more flowers than usual are ordered the same day, showing great confidence in same-day delivery.
John Gillan, Managing Director, Northern Europe, Criteo said:
"This Valentine's Day, retailers need to be optimising their mobile presence to take advantage of on-the-go purchases. Popular, but spontaneous, gifts like flowers and chocolates should be on responsive landing pages that make it as easy as possible to convert.
"The convenience of mobile shopping and advent of next-day and same day deliveries with specific time slots has helped propel the rise of on-the-go commerce. With more delivery options; pick-up in store or a local pickup point, mobile and app shopping are rapidly becoming consumers' first option for shopping, and retailers that invest in improving the mobile experience will certainly feel the love this Valentine's Day.
"Optimising shopping for mobile platforms, combined with smart promotion informed by data, retailers can create a seamless experience serving relevant products, improving engagement and increase sales.
"Globally, mobile dominates among retailers that promote their shopping apps – Criteo tracked a 30% year-over-year increase in the share of in-app transactions among these retailers. And for retailers that promote their shopping apps, mobile transactions represent 65% of all transactions."
Source: Criteo