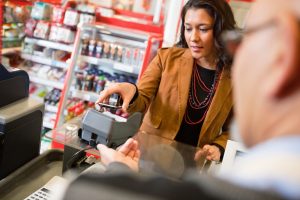 Contactless retail payments made via cards, mobile and wearables are set to reach $1.3 trillion (£1.01 trillion) in value globally by 2019 – more than double the estimated $590bn estimated for this year.
According to research from Hampshire-based analyst Juniper Research, cards will continue to contribute the most to total contactless transactions – accounting for 80 per cent of payments in 2019. Cards alone will account for more than $2 trillion worldwide by 2021.
"Purely from a payments and convenience perspective, it will be difficult for mobile wallet providers to gain existing market share from contactless cards," said research author Nitin Bhas. "It is therefore incumbent upon them to deliver innovative services through which the mobile wallet will become the default payment mechanism."
In 2016, cards accounted for over 90 per cent of transactions by value in the in many European markets – rising to 99 per cent in Spain, for example. However, in the US, mobile wallets accounted for 90 per cent of total contactless transactions.
Juniper added that it there is an opportunity for charities for utilise contactless payments, providing the example of Visa working with organisations to trial charity boxes fitted with contactless readers.
Source: Mobile Marketing Magazine