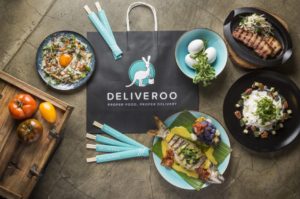 More people are choosing to order meals through delivery as longer and more irregular working hours coupled with busier home lives make finding time to prepare meals difficult, new research for Deliveroo has revealed. Analysis by consumer insights firm Morar HPI found that over the past six months the proportion of people ordering food for delivery has increased from 31% to 36%.
The research found that the increased use of mobile technology is driving food delivery. 46% of consumers now order food via a website or app (+8% since July 2017) compared to 18% in person (-3% since July 2017) and 36% on the phone (-5% since July 2017).
During focus groups undertaken for the research participants highlighted busier home life, changing work patterns and the pressure of raising a family with work as key reasons for them ordering more meals at home. This comes as the number of people cooking at home has dropped from 94% to 89%.
The younger generation has seen the largest rise in ordering in, with almost three in ten under 30s ordering more food for delivery compared to just 6% of people aged over 50. Orders for delivery are part of the growth in video on demand as people choose box sets over the dinner table. The research found that 67% of people consumed their last delivery in front of the TV while only 18% sat at the table.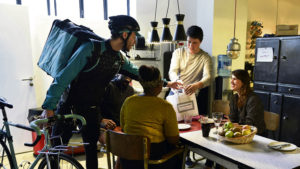 And whilst food delivery is on the rise, this has not discouraged people from eating out.
Morar's brand tracker found that In 2018, the proportion of people dining out each week has remained stable at 60% while carry out (-10%) and cooking (-5%) is in decline.The study found that 76% of people are likely to dine at a restaurant if they had previously enjoyed an online delivery from there.
The survey of 4,000 consumers found that over three quarters cited cost as the largest barrier to dining out more regularly. Over half of people who have visited restaurants less often in the past six months have also ordered fewer takeaways whilst those who have eaten out more also have a higher propensity to order food delivery, again suggesting that disposable income is a key influence in people's dining habits.
This data was revealed at Deliveroo's first ever conference for restaurant partners, held at the company's London Headquarters in Cannon Street. Over 250 restaurant partners attended the conference.
Deliveroo UK Managing Director, Dan Warne commented: "People are ordering delivery more and more because of busy lives and the increased options available. Getting something delivered is no longer a one-off treat, but an affordable solution full of healthy choices for more occasions; from breakfast to late night meals. Customers still want the restaurant experience to socialise and celebrate, which is why eating out remains broadly stable. But when people spend the night at home, whether they are back late from work or are choosing a night in with a boxset, delivery means more opportunities for our restaurant partners. We our proud that our growth boosts others."
Source: Deliveroo